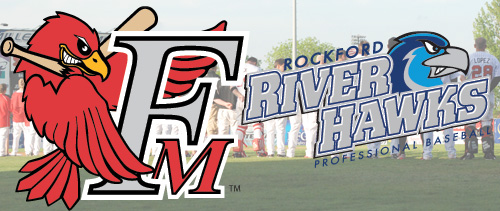 The Rockford RiverHawks took advantage of two Fargo-Moorhead errors in the eleventh inning to defeat the RedHawks 5-4 on Tuesday night at Newman Outdoor Field.

With the game tied at four in the eleventh, Rockford (16-20) put men on first and second with two out. RiverHawks center fielder Jason James hit a ground ball to Fargo-Moorhead (23-13) second baseman Carlo Cota. Cota fielded the ball cleanly and tossed it to second for what would have been the third out of the inning, but shortstop Jake Krause was unable to handle the exchange. Thinking Rockford's Jono Brooks was breaking for home, RedHawks pitcher Adam Tollefson picked up the ball, spun and fired wildly towards the plate. Catcher Alan Rick was unable to handle the throw and Jono easily scored the winning run as the ball rolled to the backstop.
Scott Roehl (2-1) picked up the win in relief, giving up only one hit over two innings and striking out three. Justin Knoff came on in the eleventh to shut down the middle of the RedHawks order and recorded his first save of the season. Rockford's bullpen combined for six scoreless innings.
Ian Church and Evan McArthur were each 3-for-5 for the RiverHawks with Church driving in three runs.
Fargo-Moorhead center fielder Nic Jackson was 2-for-6 with a pair of doubles and an RBI on the night.
RedHawks reliever Casey Hoorelbeke made his 19th appearance of the season, tossing four innings and giving up only three hits while striking out four.
The two teams will meet for the third game of a four-game set tomorrow at 7:02pm. Rockford will send Kyle Ruwe (1-4, 5.53) to the mound while Jake Laber (3-1, 4.09) will get the start for the RedHawks.