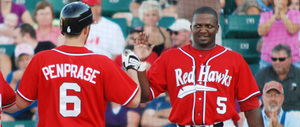 The Fargo-Moorhead RedHawks opened up the second half of the 2010 Northern League season with a 6-3 win over the rival Winnipeg Goldeyes on Friday night at Newman Outdoor Field.
Fargo-Moorhead (30-17) received yet another outstanding effort from starting pitcher Jake Laber (6-2). The All-Star southpaw went seven innings, allowing just one run on five hits. Laber also struck out five and walked two.
Winnipeg (25-26) starter Stephen Flake (2-2) struck out ten Fargo-Moorhead hitters on the night, but he had trouble finding the strike zone. Of his 111 pitches in the game, Flake was only able to get 56 across for strikes and allowed seven free passes.
The RedHawks put together two big innings to seal the victory. Cory Patton and Mike Coles reached on walks in the third, bringing shortstop Zach Penprase to the plate with two outs. Penprase drove a first-pitch fastball from Flake over the wall in right field to give Fargo-Moorhead a 3-0 lead.
In the sixth inning, an error with two outs by Winnipeg shortstop Wes Long and two more walks from Flake loaded the bases for RedHawks designated hitter Jay Cox. Cox doubled deep to left-center field, clearing the bases and sending Flake to the showers.
Goldeyes left fielder Dee Brown was 2-for-4 on the night while designated hitter Juan Diaz hit his 13th home run of the season, a towering blast that bounced halfway up the light tower in left field and back into play.
The two teams will meet again in the second game of their weekend series tomorrow night at Newman Outdoor Field. First pitch is scheduled for 6:00pm. Ace Walker (3-2, 4.09) will take the hill for the Goldeyes while T.J. Stanton (2-2, 2.68) will get the nod for Fargo-Moorhead.