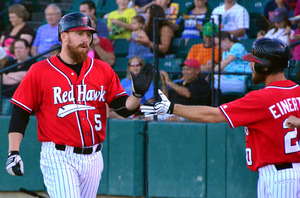 FARGO, N.D. – Every player in the Fargo-Moorhead lineup picked up a hit in a RedHawks 12-5 victory over the Winnipeg Goldeyes Saturday at Newman Outdoor Field in front of 5,135 fans – the largest crowd of the season and the 12th largest all-time in franchise history.
The RedHawks (45-28) outhit the Goldeyes (37-35) 18-9, with seven of those alone coming in the seven-run fourth that put Fargo-Moorhead out front 9-2.
Tim Alberts went 4-for-5 with a home run, double and three runs to lead the Fargo-Moorhead attack at the plate. Ronnie Bourquin and Jeremiah Piepkorn each had three hits and C.J. Retherford had two hits, including a two-run double in the fourth that broke the game open.
"We chipped away, hit the ball hard and ran the bases well," RedHawks manager Doug Simunic said. "I thought the key was C.J. Retherford with the bases loaded. He got a double that really set the table. We have a long way to go – just have to keep playing."
Paul Burnside (6-5) got the win by throwing five-plus innings. He gave up four runs on seven scattered hits, while striking out three and walking two. Joe Harris gave up a run in two innings and former North Dakota State pitcher Kyle Kingsley pitched a scoreless eighth and ninth in his RedHawks debut.
Ray Sadler and Ryan Scoma each had two hits and an RBI for Winnipeg. Luis Alen was the only other Goldeye with a multi-hit game. Pete Gehle dropped to 4-5 after giving up eight runs on 10 hits in 3 2/3 innings.
Fargo-Moorhead now holds a 7.5 game lead in the North Division standings over Winnipeg and St. Paul, after the Saints lost to Gary SouthShore Saturday. The RedHawks also extended their regular-season win streak over the Goldeyes to 10 games.
The RedHawks and Goldeyes conclude the three-game series at 1 p.m. Sunday at Newman Outdoor Field. Tickets are available at fmredhawks.com or by calling (701) 235-6161.