Coaches
Jim Bennett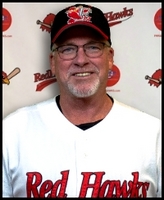 Field Manager
Email : Jim Bennett
Hometown: Mesa, AZ
Resides: Mesa, AZ
College: Chapman University
RedHawks Debut: 2019
Throws: Left
Signed as an undrafted free agent by the Seattle Mariners in 1988, the California native pitched in affiliated-baseball for three years. He was 2-1 with a 4.33 ERA for the AZL Red Sox/Mariners in his first season. Bennett finished his minor league career 13-28 but with a 3.54 ERA and just 73 walks in 310 IP. His pitching career ended in 1991 as he played for Fiorentina in Italy's Serie A2, going 5-3 with a 1.23 ERA.
Bennett began his coaching career in 1992 as a pitching coach with the Lethbridge Mounties ('92), AZL Angels ('93-'94), Boise Hawks ('95-'99), Lake Elsinore Storm ('97), Cedar Rapids Kernels ('98), Visalia Oaks (2000), Tri-City Dust Devils ('01), Asheville Tourists ('02), Visalia again ('03-'04), AZL Padres ('05) and San Jose Giants ('06-'07). He then took some time off from professional coaching before returning to the bench with the Perth Heat in the 2014-2015 Australian Baseball League (ABL). In 2015, Bennett was named as the pitching/bench coach for the Brisbane Bandits, which has won the last four ABL Championships. Recently, he was named the pitching coach for the Australian National Team, which will compete in the WBSC Premier 12 Tournament in late 2019.
Jim was named the RedHawks manager on March 20th, 2019 and is the third manager in franchise history.