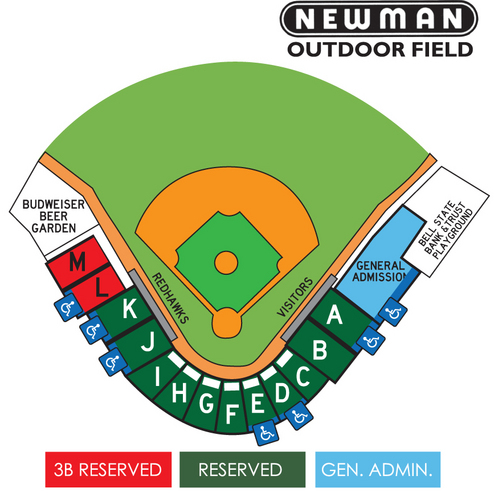 Group Ticket Seating & Pricing

Seating
RESERVED
SEC. A-K
3B Red Reserved (Sec. L-M)
Adult General Admission
Youth General Admission (3-17)

Additional Group Ticket Information:

Group Ticket discounts are not available on the day of the game.
To receive a Group Ticket discount, all tickets must be purchased for the same game date.
You may purchase Group Tickets in person with cash, check or credit card (Visa, Master Card, Amex, or Discover).

---
NEWMAN OUTDOOR FIELD
1515 15th Ave N
Fargo, ND 58102
Phone: (701) 235-6161 or Toll Free (800) 303-6161
Ticket Office Hours
Mon-Fri 10:00 AM to 6:00 PM
Saturday 10:00 AM to 1:00 PM
Game Days: 10:00 AM until the 7th Inning.

For More Information
Call: (701) 235-6161 or 800-303-6161
Email: redhawks@fmredhawks.com
Contact our Group Sales Department:

Corey Eidem
Group Sales Coordinator
(701) 478-9208
Email: ceidem@fmredhawks.com
---
PICNIC MEAL PACKAGES

---

ALL YOU CAN EAT PICNIC
$14.00 adults, $7.00 kids 12 & under

All-you-can-eat hotdogs, brats, BBQ pulled pork and hamburgers served with potato salad, baked beans, potato chips and Pepsi products.

*This option is only for group sizes between 50-500+.*

Two Hot Dog Meal

$6.00

Bratwurst Meal
$6.25
Chicken Sandwich Meal


$6.75

Pulled Pork Sandwich Meal
$7.00

Hi-Ho Burger/ Cheeseburger

$6.50/$7.00
Additional Picnic Information:
There is a 25 person minimum for all picnics, excluding the all-you-can-eat buffet.
All picnics are served with chips and soft drinks.
Beer can be an addition to your package for an additional cost.
Picnics are first come, first serve and all orders must be confirmed and paid in full 14 days before scheduled game.
Serving begins when gates open and ends at scheduled game time.
Prices do not include cost of ticket.
---
HawkBucks
Want to provide your group with food and beverage options while letting them pick their own favorite RedHawks food? HawkBucks are gift certificates that spend like cash at Newman Outdoor Field. They are flexible to meet the needs of everyone in your group. These "flexible" dollars may be redeemed for merchandise and food or drink at any vendor/concession stands during the night of your game. A great addition to any group!
---
Picnic Packages
Join us all season long with pre-game picnics followed by a ballgame. It's a great addition to any group package! Picnics start an hour before game time and picnic areas are located next to the Budweiser Beer garden or picnic area next to the Bell State Bank and Trust playground. Your dining area and menu choice will be ready for you when your group arrives. Serving will begin when gates open and will end at the scheduled game time. Eat, drink, and mingle in your reserved area until the game starts! You and your guests are guaranteed to walk away full and happy - leaving the mess behind for us! Picnics are a great way to impress clients, reward employees or simply celebrate with your family. The RedHawks offer seven menu options for your group to choose from.