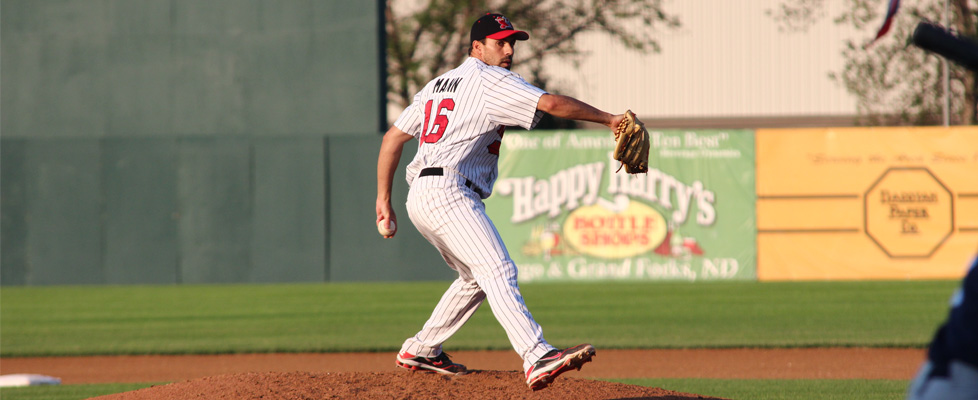 FARGO, ND – The Fargo-Moorhead RedHawks furious ninth inning rally fell short as they dropped their second game in a row to Winnipeg 3-2 in front of 3,894 fans at Newman Outdoor Field on Wednesday night.

The Goldeyes struck first. Brandon Mann retired the first six Fish that stepped to the dish, but DH Ryan Babineau sent a chopper up the middle and was advanced to second by Luis Alen. Brady Wilson proceeded to send a grounder up the middle that just got past the outstretched glove of Frank Salerno scoring Babineau making it 1-0 Winnipeg.

Winnipeg wouldn't get to Mann again until the sixth. With two outs, Josh Mazzola slapped one into right and stretched a single into a double giving the Goldeyes a two-out base runner. Brad Boyer proceeded to push a single into left scoring Mazzola making it 2-0. Boyer would then score on a Ryan Babineau single to right on a close play at the plate. Catcher Zach Wright narrowly missed applying the tag, and the Goldeyes took a 3-0 lead into the seventh.

Winnipeg starter Matt Jackson rolled along through six innings of work never facing any real threat. He allowed runners to second base in the first, fifth, and sixth frames, but none of them reached third. He finished with seven strikeouts while allowing a pair of walks and six hits.

In Brandon Mann's last start he threw 136 pitches at St. Paul. He followed that up with a 145 pitch performance tonight, going the distance throwing all nine innings for his first complete game of the season. Entering tonight's game he was third in the American Association in strikeouts with 54, and he added 11 to that total, tying him with Sioux City's Patrick Johnson for the league lead.

Mann (1-5, 4.57 ERA) pitched in Japan from 2011-2013 where pitchers exceeding 150 plus pitches in a game is not uncommon. In nine innings of work the left-hander gave up three runs (all earned) on 11 hits with four walks and 11 strikeouts.

The RedHawks entered the bottom half of the ninth trailing 3-0 and facing the Goldeyes' closer, former major leaguer Jalien Peguero. Peguero spent 2007 and 2008 as a member of the Arizona Diamondbacks bullpen. He has spent the last seven seasons in Triple-A with various organizations as a relief pitcher before coming to Winnipeg for the 2015 season. The RedHawks had not scored in 18 consecutive frames dating back to game one of the series, but a furious rally ended that streak in the home half of the ninth. Joe Bonfe lead off for Fargo-Moorhead and was a hit by a pitch for his league leading eighth time this season. Joe Dunigan followed with a single to left-center that allowed Bonfe to slide into third safely. Wright stepped to the dish next, and the recently signed catcher came up big with a bloop single that dropped fair down the line in right scoring Bonfe making it 3-1. Joe Staley proceeded to ground into a tailor made 6-4-3 double play which scored Dunigan. Trailing 3-2, Frank Salerno flew out to right field ending the ball game.

Mann took the loss while Matt Jackson (3-5, 5.37 ERA) earned the win for Winnipeg. Peguero picked up his eighth save of the season for the Goldeyes. Fargo-Moorhead drops to 13-33 while Winnipeg improves to 19-25. The series finale is set for tomorrow afternoon at 12:30 as Tyler Herron takes the mound for the RedHawks with Anthony Smith countering for Winnipeg. Then the Ottawa Champions of the Can-Am League come to town for a three-game interleague series starting on Friday.
Game Date: 07/08/2015
Winnipeg Goldeyes  3 AT Fargo-Moorhead RedHawks  2

                                 YTD                                   YTD
Winnipeg           AB  R  H BI   AVG  Fargo              AB  R  H BI   AVG
A.Heisler CF        5  0  1  0  .299  D.Muren CF          4  0  0  0  .247
C.Robinson LF       4  0  1  0  .345  Z.Penprase SS       4  0  1  0  .261
C.Haerther 3B       5  0  1  0  .322  C.Mozingo LF        3  0  0  0  .296
J.Weber DH          4  0  0  0  .317  J.Bonfe 1B          3  1  2  0  .307
J.Mazzola SS        4  1  2  0  .311  J.Dunigan RF        4  1  1  0  .215
B.Boyer 2B          4  1  1  1  .278  Z.Wright C          3  0  2  1  .375
R.Babineau C        4  1  3  1  .344  J.Staley DH         4  0  0  0  .245
L.Alen 1B           3  0  1  0  .260  F.Hall 3B           3  0  1  0  .114
B.Wilson RF         3  0  1  1  .254   B.Peterson PR      0  0  0  0  .219
                                      F.Salerno 2B        4  0  1  0  .263
                   36  3 11  3                           32  2  8  1

Winnipeg             0 0 1   0 0 2   0 0 0 -  3 11  0
Fargo                0 0 0   0 0 0   0 0 2 -  2  8  0
2B--J.Mazzola (8). RBI--B.Boyer (23), R.Babineau (6), B.Wilson (12),
Z.Wright (1). HP--J.Bonfe (8). SB--R.Babineau (1), C.Mozingo (9), Z.Wright
(1). CS--B.Wilson (2). 
LOB--Winnipeg 10, Fargo 7. DP--B. Boyer(2B) - J. Mazzola(SS) - L. Alen(1B),
F. Salerno(2B) - Z. Penprase(SS) - J. Bonfe(1B), M. Jackson(P) - J.
Mazzola(SS) - L. Alen(1B). 
                                                                YTD
                                 IP   H   R  ER  BB  SO  HR     ERA
 Winnipeg
M.Jackson (W,3-5)               6.0   6   0   0   2   7   0    5.37
B.Mincey                        0.2   0   0   0   0   0   0    5.68
R.Varner                        0.1   0   0   0   0   0   0    6.32
B.Lafferty                      1.0   0   0   0   0   2   0    3.91
J.Peguero (S,8)                 1.0   2   2   2   1   0   0    4.37
                                9     8   2   2   3   9   0
 Fargo
B.Mann (L,1-5)                  9.0  11   3   3   4  11   0    4.57
                                9    11   3   3   4  11   0
WP--B.Mann 2 (4). HB--J.Peguero (2). SO--A.Heisler 3, C.Robinson, J.Weber
3, J.Mazzola 2, B.Boyer, R.Babineau, D.Muren 3, Z.Penprase 3, J.Bonfe,
J.Dunigan, Z.Wright. BB--C.Robinson, J.Weber, L.Alen, B.Wilson, C.Mozingo,
Z.Wright, F.Hall. BF--M.Jackson 24 (250), B.Mincey 2 (2), R.Varner (35),
B.Lafferty 3 (111), J.Peguero 6 (98), B.Mann 40 (293). P-S--M.Jackson
101-65, B.Mincey 4-4, R.Varner 4-2, B.Lafferty 12-8, J.Peguero 25-14,
B.Mann 145-97. 
T--2:54.  A--3894

Weather: 77F, Partly Cloudy, Wind 5 MPH
Plate Umpire - Bobby Feaster, Field Umpire #1 - Kyle Goluba, Field Umpire #2 - Joey Stegner, Field Umpire #3 - Joey Stegner