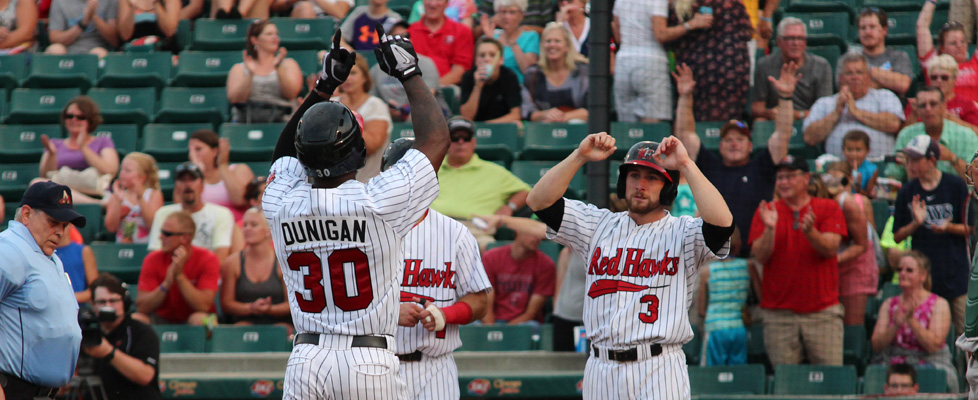 FARGO, ND – Behind a three run homer from Joe Dunigan and the arm of starter Brandon Mann, the Fargo-Moorhead RedHawks won their fourth straight game 6-3 in front of 3,298 fans at Newman Outdoor Field on Wednesday night.
It was Gary who jumped out to the early lead. Leadoff man J.D. Pulfer sent a dribbler to third that slipped under the glove of Michael Wing giving the RailCats their leadoff man aboard. Two batters later Brennan Metzger would drop a single into right scoring Pulfer giving Gary the 1-0 lead after the first inning.
Fargo-Moorhead starter Brandon Mann appeared to settle down in the second inning as he struck out the first two batters he faced but proceeded to give up back-to-back-to-back singles to the 7-8-9 batters for Gary. Brandon Thomas and Jaime Del Valle would come around to score on a Ryan Brockett two RBI single making it 3-0 RailCats.
The RedHawks responded in the home half of the second. With two outs, Luke Bailey and Joe Bonfe singled bringing Charlie Valerio to the dish who belted a two RBI double to the wall in left-center making it 3-2.
Fargo-Moorhead made a push in the third inning and never looked back. Drew Muren walked on four pitches from 'Cats' starter Chuck Fontana to start followed by a Chad Mozingo single giving the RedHawks runners on first and second with one out. Michael Wing sent a dribbler to short that was mishandled by second basemen Alex Hernandez that allowed Muren to wheel home from second. That brought up the hero from the previous game, Joe Dunigan, to the plate. Dunigan took the second offering from Fontana and belted it over the fence in right for a three-run tape measure shot home run. The four-spot for the 'Hawks pushed the lead to 6-3 after three innings.
Neither team would score after the third inning and it became the Brandon Mann show on the mound. He would settle in and produce 1-2-3 innings in the third and fifth innings. Mann followed by striking out the side in the sixth, the only batter reaching being Adam Taylor via hit by pitch. After plunking Taylor, Mann retired the next 11 he faced while going the distance. Mann pitched a complete game for the third time this season, allowing three runs (two earned) on five hits with one walk and a season high 12 strikeouts. He has struck out 12 batters in back-to-back outings and now has a league leading 115 K's on the season. Mann continues to chase the American Association strikeout record, which was set back in 2011 by Ben Moore of Sioux Falls when he sat down 144 batters via the strikeout.
Of the run support, Mann commented, "To be honest it just pumped me up. It got me going. It's nice when you have a cushion to work with, makes my job a lot easier."
Mann (4-8) improves his ERA to 4.48 while Fontana (3-4) takes the loss after giving up six runs (five earned) on eight hits with two walks and a strikeout in six innings of work.
With the win, Fargo-Moorhead clinches it's second straight series win and improves to 27-48. The team matches a season high by winning it's fourth straight game and also clinches back-to-back series wins for the first time this season. With a win tomorrow, the RedHawks would complete their first sweep of the season. Gary Southshore falls to 33-42 with the loss.
The two teams will wrap up the three game set with a 12:30 p.m matinee start time on Thursday afternoon. Tyler Herron (4-5, 4.36 ERA) will take the ball for the RedHawks counterd by Rene Solis (2-6, 4.35 ERA) for the RailCats.
Notes: Drew Muren went 1-for-2 and Luke Bailey went 2-for-4 extending their hitting streaks to 6 games.
Game Date: 08/12/2015
Gary SouthShore RailCats  3 AT Fargo-Moorhead RedHawks  6

                                 YTD                                   YTD
Gary               AB  R  H BI   AVG  Fargo              AB  R  H BI   AVG
J.Pulfer 3B         3  1  0  0  .264  Z.Penprase SS       5  0  0  0  .269
D.Martinez RF       4  0  0  0  .275   T.Oldham 3B        0  0  0  0  .262
B.Metzger DH        4  0  1  1  .182  D.Muren CF          2  1  1  0  .249
J.Sermo 1B          4  0  0  0  .286  C.Mozingo LF        4  1  1  0  .328
A.Taylor LF         3  0  0  0  .296  M.Wing 3B,SS        4  1  0  0  .239
A.Hernandez 2B      4  0  1  0  .310  J.Dunigan RF        4  1  2  3  .227
B.Thomas CF         4  1  1  0  .260  L.Bailey C          4  1  2  0  .240
J.Del Valle C       3  1  1  0  .241  J.Bonfe 1B          4  1  3  0  .293
R.Brockett SS       3  0  1  2  .273  C.Valerio DH        4  0  2  2  .296
                                      R.Pineda 2B         4  0  0  0  .224
                   32  3  5  3                           35  6 11  5

Gary                 1 2 0   0 0 0   0 0 0 -  3  5  2
Fargo                0 2 4   0 0 0   0 0 x -  6 11  2
2B--D.Muren (15), J.Dunigan (14), J.Bonfe (13), C.Valerio (9).
HR--J.Dunigan (10). RBI--B.Metzger (2), R.Brockett  2 (20), J.Dunigan  3
(45), C.Valerio  2 (19). HP--A.Taylor (3). SB--J.Del Valle (2), D.Muren
(13). E--A.Hernandez 2 (2), M.Wing 2 (3). 
LOB--Gary 4, Fargo 7. DP--R. Pineda(2B) - M. Wing(3B) - J. Bonfe(1B), R.
Pineda(2B) - Z. Penprase(SS) - J. Bonfe(1B), B. Thomas(CF) - R.
Brockett(SS). 
                                                                YTD
                                 IP   H   R  ER  BB  SO  HR     ERA
 Gary
C.Fontana (L,3-4)               6.0   8   6   5   2   1   1    3.40
J.Kovalik                       2.0   3   0   0   0   4   0    0.00
                                8    11   6   5   2   5   1
 Fargo
B.Mann (W,4-8)                  9.0   5   3   2   1  12   0    4.49
                                9     5   3   2   1  12   0
WP--B.Mann (8). HB--B.Mann (7). SO--B.Metzger, J.Sermo, A.Taylor 3,
A.Hernandez 2, B.Thomas 3, J.Del Valle, R.Brockett, Z.Penprase, C.Mozingo,
M.Wing, J.Dunigan, R.Pineda. BB--J.Pulfer, D.Muren 2. BF--C.Fontana 28
(176), J.Kovalik 9 (9), B.Mann 34 (482). P-S--C.Fontana 91-56, J.Kovalik
31-22, B.Mann 125-84. 
T--2:35.  A--3298
Zach Penprase ejected in bottom of the eighth.

Weather: 90 F, Sunny