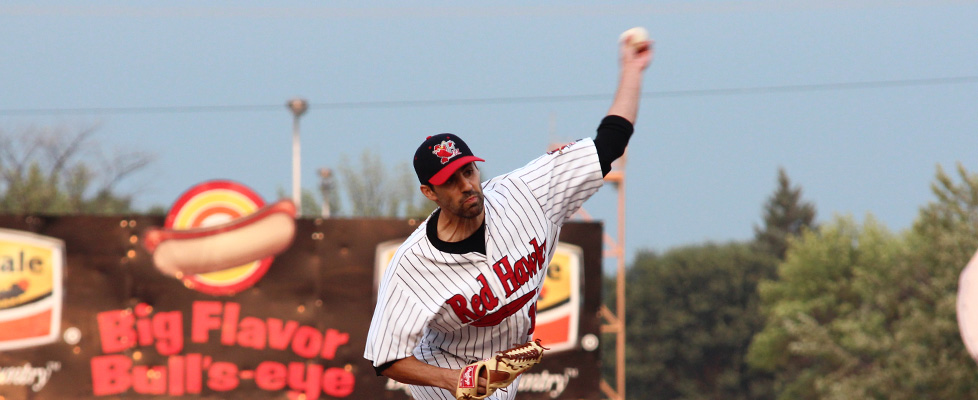 FARGO, ND – On a record setting night for Brandon Mann, the Fargo-Moorhead RedHawks dropped the second game of a three game series 12-7 to the Gary Southshore RailCats with 3,202 spectating at Newman Outdoor Field.

The RailCats got to RedHawks' starter Brandon Mann early and often. Jon Jones belted a leadoff triple to the deepest part of the park and would score on a Brennan Metzger groundout making it 1-0.

The RedHawks would respond with a bang-bang start of their own. Zach Penprase, facing a familiar foe in Rene Solis, led off with a ground ruled double pushed opposite field and would score on a Joe Bonfe sac fly pushed to right tying the game 1-1.

Jose Sermo would score on a throwing error in the top of the second before Fargo-Moorhead would again respond. Charlie Valerio and Michael Wing walked consecutively bringing Penprase to the plate. The shortstop laced a double off the wall in left-center that would plate two making it 3-2 after two innings.

Gary put up a three spot in the third. The lefty yielded a leadoff single to Jon Jones followed by an RBI double from Brennan Metzger making it 1-0. Mann would walk Jaime Del Valle and followed by an RBI double from Jose Sermo who would score on a single from Alex Hernandez. Gary had grabbed hold of a 5-3.

Two frames later Fargo-Moorhead would produce a three run inning. Solis issued a leadoff walk to Pineda followed by a Penprase single to right. Muren then crushed a double to right-center bringing Pineda in to score. Solis then became erratic as he issued a wild pitch plating Penprase and advancing Muren to third. Bonfe then grounded into a fielder's choice two batters later scoring Muren while regaining the lead 6-5 for the 'Hawks.

As alluded to, this was a historic night for Brandon Mann. The left-hander came into the game chasing history, as he has been in pursuit of the American Association single season strikeout record, 144 set by Sioux Falls' Ben Moore in 2011, all season. First and foremost, he had to break the Fargo-Moorhead RedHawks' single season mark, set by Gino Caruso back in 1997 when the crafty left-hander sat down 132 batters in 133.1 innings pitched. Fargo-Moorhead only played an 84 game schedule in '97 when Caruso set the bar in a season he logged 132.2 innings. Mann came into today's game, the 85th game of the season, having sat down 124 batters in 115.1 innings. He tied the mark in the top of the fifth inning when he struck out Del Valle swinging. Having thrown 114 pitches, his arm labored and he was at risk of not breaking the record at home in the sixth. Facing Michael Vaughn, Mann struck out the RailCats catcher looking on three pitches breaking down the record set by Caruso that stood for 18 years.

Mann, now in his 13th season of professional baseball, expressed his gratitude and pride in the achievement saying, "It's an honor honestly to hold a record for such a great organization. For my career, this definitely means a lot to me."

The game would play on and Mann would return to the bump in the seventh. After having thrown 126 pitches, Manager Doug Simunic made the long walk to the mound to remove Mann from the game as he had loaded the bases. He convinced Simunic to let him remain and the decision proved costly. Alex Hernandez ripped a double to left that would plate three and allow Gary to pull ahead for good 8-6.

Fargo-Moorhead would tack on a run in the bottom of the seventh. Drew Muren who doubled score on a Bonfe ground out to make it 8-7, but Gary exploded in the top of the ninth for four runs putting the game out of reach.

Mann (5-9) takes the loss going 6.1 innings allowing eight runs (seven earned) on nine hits with six walks and nine strikeouts. Matt Solter (1-2) earns his first win of the season for his relief efforts in the sixth inning.

Drew Muren and Zach Penprase had big nights at the plate for the RedHawks. Muren went 3-for-5 a pair of runs scored as well as a pair batted in. Penprase had an even bigger night, going 3-for-5 and two runs scored and two batted in. Both had a pair of doubles for the 'Hawks and Simunic praised the duo in the post-game show saying, "Penprase and Muren are about as solid as 1-2 leadoff guys you can have."

With the loss, Fargo-Moorhead has it's season high five game win streak snapped and drops to 34-51 while Gary improves to 41-44 but remains four back in the wild card chase. The series rubber match is set for tomorrow afternoon with a 1 p.m start as Tyler Herron (5-6, 4.27 ERA) will take the hill against Charlie Rosario (12-6, 3.47). Pre-game with Scott Miller on 740 AM The Fan goes on the air at 12:40 p.m.
NOTES: Joe Dunigan extended his hitting streak to 13 games, a new season high for a RedHawks batter. Gary's Brennan Metzger went 4-for-6 with a run scored and three RBIs. All four of his hits were doubles which ties an American Association record.
Game Date: 08/22/2015
Gary SouthShore RailCats  12 AT Fargo-Moorhead RedHawks  7

                                 YTD                                   YTD
Gary               AB  R  H BI   AVG  Fargo              AB  R  H BI   AVG
J.Jones CF,DH       5  3  3  1  .311  Z.Penprase SS       5  2  3  2  .292
B.Metzger CF        6  1  4  3  .216  D.Muren CF          5  2  2  1  .271
 A.Loomis P         0  0  0  0  .000  C.Mozingo LF        5  0  1  0  .315
A.Taylor LF         5  1  1  0  .305  J.Bonfe 1B          3  0  0  3  .283
J.Del Valle 1B      3  1  0  0  .273  J.Dunigan RF        4  0  1  0  .242
J.Sermo RF          3  4  3  1  .308  L.Bailey C          4  0  1  0  .243
A.Hernandez 2B      4  1  3  4  .299  C.Valerio DH        3  1  0  0  .267
S.Mahoney 3B        2  1  0  0  .333  M.Wing 3B           3  1  1  0  .242
M.Vaughn C          4  0  0  1  .197  R.Pineda 2B         3  1  0  0  .237
J.Mederos SS        4  0  0  0  .162       
                   36 12 14 10                           35  7  9  6

Gary                 1 1 3   0 0 0   3 0 4 - 12 14  0
Fargo                1 2 0   0 3 0   1 0 0 -  7  9  2
2B--J.Jones (18), B.Metzger 4 (5), J.Sermo (10), A.Hernandez (5),
Z.Penprase 2 (22), D.Muren 2 (19). 3B--J.Jones (8). RBI--J.Jones (36),
B.Metzger  3 (7), J.Sermo (22), A.Hernandez  4 (14), M.Vaughn (20),
Z.Penprase  2 (44), D.Muren (33), J.Bonfe  3 (33). HP--A.Taylor (4).
SF--M.Vaughn (2), J.Bonfe (3). SH--J.Jones (0), J.Del Valle (0), S.Mahoney
(0). SB--S.Mahoney (1). CS--B.Metzger (2), J.Sermo (6), M.Wing (3).
E--R.Pineda (9), J.Chudy (1). 
LOB--Gary 9, Fargo 5. 
                                                                YTD
                                 IP   H   R  ER  BB  SO  HR     ERA
 Gary
R.Solis                         5.0   7   6   6   3   5   0    4.63
M.Solter (W,1-2)                1.0   0   0   0   0   2   0    4.91
A.Roberts                       2.0   2   1   1   0   1   0    4.89
A.Loomis                        1.0   0   0   0   0   0   0    3.20
                                9     9   7   7   3   8   0
 Fargo
B.Mann (L,5-9)                  6.1   9   8   7   6   9   0    4.51
J.Chudy                         1.2   3   3   1   1   0   0    5.65
B.Waite                         1.0   2   1   0   0   1   0    4.55
                                9    14  12   8   7  10   0
WP--R.Solis (3). PB--M.Vaughn. HB--B.Mann (9). SO--B.Metzger, A.Taylor 3,
J.Del Valle 2, S.Mahoney, M.Vaughn, J.Mederos 2, Z.Penprase, D.Muren,
J.Dunigan, C.Valerio 2, R.Pineda 3. BB--J.Del Valle, J.Sermo 2,
A.Hernandez, S.Mahoney 2, J.Mederos, C.Valerio, M.Wing, R.Pineda.
BF--R.Solis 25 (455), M.Solter 3 (82), A.Roberts 8 (341), A.Loomis 3 (168),
B.Mann 33 (551), J.Chudy 10 (146), B.Waite 5 (123). P-S--R.Solis 100-58,
M.Solter 19-11, A.Roberts 27-20, A.Loomis 11-8, B.Mann 131-70, J.Chudy
39-26, B.Waite 15-11. 
T--3:21.  A--3202
Game delayed one hour due to rain. Started at 7 pm.

Weather: 61 F, Overcast