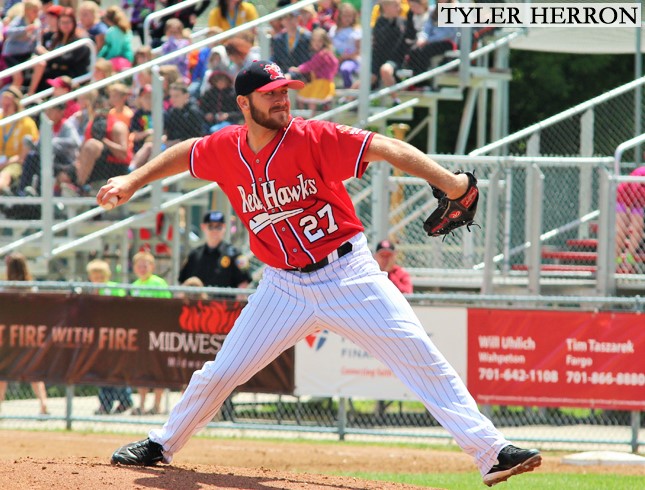 The Fargo-Moorhead RedHawks added another big piece to the 2016 starting rotation as the club re-signed RHP Tyler Herron. Herron is the 17th player under contract for the upcoming season.
Herron, 29, was 6-7 with a 4.47 ERA in 20 starts for the RedHawks in 2015. He pitched 131.0 innings and allowed 83 runs (65 earned) on 125 hits. Herron struck out 119 batters and walked 64. He finished third in the American Association last season in strikeouts.
Herron returned to the RedHawks last summer after pitching with the club in 2012. That season, he was 12-3 with a 3.29 ERA in 23 games (17 starts). Following the 2012 season, he had his contract purchased by the Washington Nationals organization. Herron spent two seasons with the Nationals and reached the Triple-A level in 2014.
Herron began his professional career in 2005 after being selected by the St. Louis Cardinals in the first round (46th overall) of that year's draft out of Wellington Christian High School in Florida. He spent five seasons in the Cardinals and Pirates organizations before signing with Evansville of the Frontier League in 2010. After an arm injury kept him out in 2011, he signed with the RedHawks for 2012.
"Tyler is a workhorse and a great competitor," said RedHawks Manager Doug Simunic. "Being able to plug him in with Taylor Stanton, Tyler Alexander and Richie Mirowski gives us a pretty formidable top-four in our rotation."