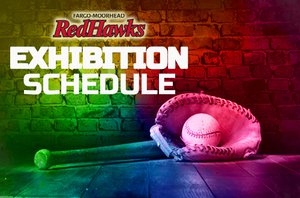 ST. PAUL, MN
(May 16, 2017) -
If the last two exhibition games are any indication of the 2017 season the St. Paul Saints will have the home fans sitting on the edge of their seats late in games. For the second consecutive game the Saints scored late to defeat the Fargo-Moorhead RedHawks in front of 5,802 kids at CHS Field in the final exhibition game.
With the game tied at three in the eighth Anthony Gallas led off with a double to right. Tony Thomas gave the Saints a 4-3 lead with an RBI double to left. With one out Brady Burzynski's RBI single to right drove home Thomas to make it 5-3. After Burzynski was caught stealing, Tanner Vavra doubled and scored on Jon Kristoffersen's RBI single.
The Saints jumped out to a 3-0 lead in the third when Kristoffersen was hit by a pitch with one out. Danny Oh then hit a grounder to second, but Tyler Urps' throw to the shortstop Yhoxian Medina covering second went into left field. That sent Kristoffersen to third and Oh to second. Nate Hanson gave the Saints a 2-0 lead with a two-run double. Gallas advanced Hanson to third with a single and Hanson scored on Thomas' single.
Saints starter Jason Creasy looked sharp in his 3.0 scoreless innings of work allowing three hits while striking out a pair. Creasy will start the fourth game of the season for the Saints on Sunday evening.
Benji Waite continued to look sharp in exhibition play tossing 2.0 shutout innings and got out of a mini jam in the fifth. With runners at first and second and nobody out, Waite got Medina to ground into a double play. Waite then got Derrick Fox to ground out to end the inning.
The RedHawks got on the board in the seventh when K.D. Kang led off with a single against Vinny Nittoli. Jesus Posso followed with a two-run homer to left, to make it 3-2.
In the eighth the RedHawks tied it when Fox walked, advanced to second on an errant pickoff attempt and moved to third on a wild pitch. Mitch Delfino's RBI single tied it at three.
The RedHawks' season gets underway Thursday when they travel to Grand Prairie to play the Texas AirHogs. Gametime is 7:05 pm.