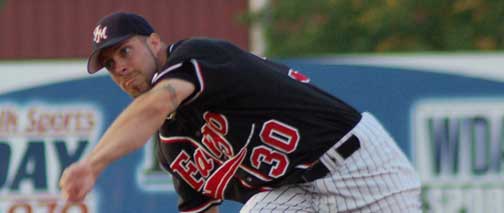 The Fargo-Moorhead RedHawks have re-signed LHP Adam Rowe, signed INF Patrick Gaylord and RHP Matt Mossey and released RHP Todd George, the Northern League club announced today. Rowe, Gaylord and Mossey will be in Fargo when the RedHawks open training camp on May 1 at Newman Outdoor Field. George has retired from professional baseball after taking a job in Texas over the winter.
Rowe, 27, is entering his third season with the RedHawks. He was 2-4 with a 4.22 ERA and two saves in 32 games (eight starts) for Fargo-Moorhead in 2008. Rowe pitched 81.0 innings and allowed 44 runs (38 earned) on 106 hits. He struck out 42 batters and walked 19. Rowe was 0-2 with a 3.55 ERA in 24 appearances out of the bullpen.
Rowe joined the RedHawks in 2007 after spending three season sin the Kansas City Royals organization. He was 5-6 with a 1.94 ERA in 46 games in 2007 and was selected to pitch in the Northern League All-Star Game in Fargo.
Gaylord, 23, batted .287 with five doubles, one home run, 17 RBIs and 22 runs scored in 54 game for the Edinburg (Tex.) Coyotes of the United Baseball League in 2008. Gaylord appeared in games at every position except shortstop and center field. Gaylord began his professional career with Edinburg in 2007 and batted .252 with 11 doubles, one home run, 23 RBIs and 26 RBIs in 68 games.
Mossey, 23, joins the RedHawks after completing a college career that began with North Dakota State University and ended at the University of Iowa. He spent his first three years at NDSU. Mossey was 4-9 as a pitcher in three seasons, but was also the Bison shortstop and one of the leading hitters. He batted .295 with 24 doubles, ten triples, seven home runs, 79 RBIs and 96 runs scored in 149 games.
With the University of Iowa, Mossey appeared in 35 games and batted .231 with nine doubles, one triple, 14 RBIs and 22 runs scored for the Hawkeyes last spring.
George, 30, retires as one of the best pitchers to ever wear a RedHawks uniform. He posted a career record of 42-19 with a 3.80 ERA for the RedHawks in 87 games (85 starts). George struck out 298 batters and walked 197 and will go down as one of the top big game pitchers in team history.
George was the MVP of the 2003 Northern League Finals after earning victories in Game 1 and the series-clinching Game 4 against the Winnipeg Goldeyes. He was selected to pitch in three Northern League All-Star Games and was named to the RedHawks 10th Anniversary Team in 2005.