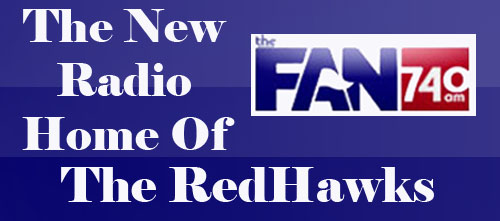 When the Fargo-Moorhead RedHawks open their 15th season in May, the team will have a new radio home
.
The defending Northern League Champions have signed a three-year agreement with Radio Fargo-Moorhead to broadcast all regular season and playoff games on The FAN 740 AM
. The agreement includes an additional three-year option.
The broadcast team will be announced at a later date.
The RedHawks and management at Radio Fargo-Moorhead will be working together to find a suitable "Voice of the RedHawks." Baseball legend Maury Wills has been invited to return for his 13th season as color commentator and both the RedHawks and Radio Fargo-Moorhead anticipate his return for select home games.
"We are very excited to be back with Radio Fargo-Moorhead and on The FAN 740 AM," said RedHawks CEO Brad Thom. "The RedHawks will be the flagship of The Fan's line-up and we feel their all-sports format and massive signal strength make it the prefect home for RedHawks Baseball."
The FAN's coverage area stretches across most of North Dakota, northwest Minnesota, northern South Dakota in most of southern Manitoba. It has the fifth largest daytime geographical coverage of any radio station in the United States covering 101,687 square miles.
"We have always considered the RedHawks to be the region's team, not just the metro area," said Thom. "I know we have many fans in outlying areas and in Fargo-Moorhead that will be able to find us on The FAN when they can't make it to the ballpark."
Radio Fargo-Moorhead includes The FAN 740 AM, KFGO 790 AM, BOB 95 FM, Rock 102 FM, Mojo 104.7 FM and Y-94 FM. Part of the RedHawks agreement will allow for cross-promotion across the entire Radio Fargo-Moorhead family of stations.