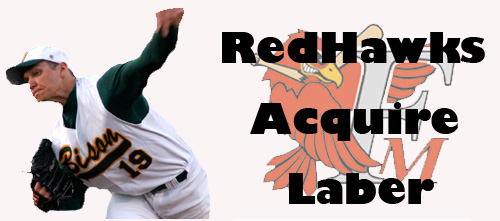 The Fargo-Moorhead RedHawks have acquired LHP Jake Laber from the River City Rascals of the Frontier League for cash and a player to be named later, the Northern League club announced today.
Laber, 23, was 9-4 with a 4.48 ERA in 21 starts for River City in 2009
. He pitched 130.2 innings and allowed 75 runs (65 earned) on 142 hits. Laber struck out 115 batters and walked 45. His strikeout total ranked fourth in the Frontier League, and his 21 starts were good for second in the circuit.
Laber made his professional debut in 2008 with the RedHawks after four years at North Dakota State University
. The Fargo native appeared in seven games for Fargo-Moorhead and was 0-2 with a 7.30 ERA before his contract was assigned to River City. After moving to the Rascals, Laber was 4-3 with a 4.01 ERA in 11 starts.
At NDSU, Laber was 13-26 with a 5.68 ERA in 58 games (45 starts) from 2005-08
. He ranks among the Bison's all-time leaders in games started (1st), innings pitched (1st), strikeouts (2nd) and wins (8th). Laber played high school baseball at Fargo North and also pitched for the Fargo Post 2 American Legion team.
"We've been watching Laber's development over the past two seasons and feel he's ready to be a solid Northern League pitcher," said RedHawks Manager Doug Simunic. "He was one of the top starters in the Frontier League last year and we think he can be a guy that can help us. He's a top local talent and we are happy to have him back on our roster."