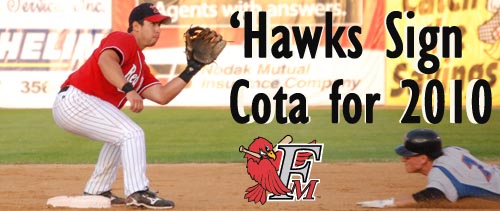 The Fargo-Moorhead RedHawks have re-signed 2B Carlo Cota, RHP T.J. Stanton and RHP Matt Mossey and signed INF Chris Tonte to contracts, the Northern League club announced today. All four players will be in Fargo when the RedHawks open training camp in early May.
Cota, 29, returns for his third season with the RedHawks in 2010
. He batted .257 with 22 doubles, one triple, ten home runs, 57 RBIs and 59 runs scored in 95 games for Fargo-Moorhead last season. Cota was the top defensive second baseman in the league, as he posted a .988 fielding percentage and committed just six errors all season.
Cota joined the RedHawks prior to the 2008 season after five years in the Toronto Blue Jays organization. He hit .325 with 29 doubles, two triples, eight home runs, 59 RBIs and 80 runs scored and was named to the end-of-the-year Northern League All-Star team.
Stanton, 28, joined the RedHawks last season in June and found a home in the RedHawks bullpen.
He appeared in 32 games and was 4-0 with a 2.25 ERA and a team-high nine saves.. Stanton pitched 44.0 innings and allowed 23 runs (11 earned) on 37 hits. He struck out 42 batters, walked 20 and held opponents to a .220 batting average against him.
Stanton
began his professional career in 2004 with the Winnipeg Goldeyes after pitching at the University of North Florida. He pitched in the Los Angeles Angels organization in 2005 and starting in 2006 made stops in independent baseball with the St. Paul Saints, New Jersey Jackals, Quebec Capitales and Sussex (N.J.) Skyhawks.
Mossey, 24, was 4-3 with a 5.40 ERA and one save for the RedHawks in 2009, his first season as a professional
. He appeared in 32 games (nine starts) and pitched 86.2 innings. Mossey allowed 58 runs (52 earned) on 94 hits, struck out 48 batters and walked 40. In the playoffs, Mossey started Game 4 of the First Round series against the Winnipeg Goldeyes. He allowed one run on seven hits in 4.0+ innings pitched.
Mossey was selected this fall in the Northern League Expansion Draft by the Lake County Fielders. He was later traded to Kalamazoo in a multi-player deal before the RedHawks made a deal in early March to bring him back to Fargo-Moorhead.
Tonte, 23, joins the RedHawks after completing his college career at the University of Pittsburgh in 2009
. As a senior, Tonte batted .354 with seven doubles, one triple, four home runs, 17 RBIs and 19 runs scored in 25 games for the Panthers. Tonte is an infielder.