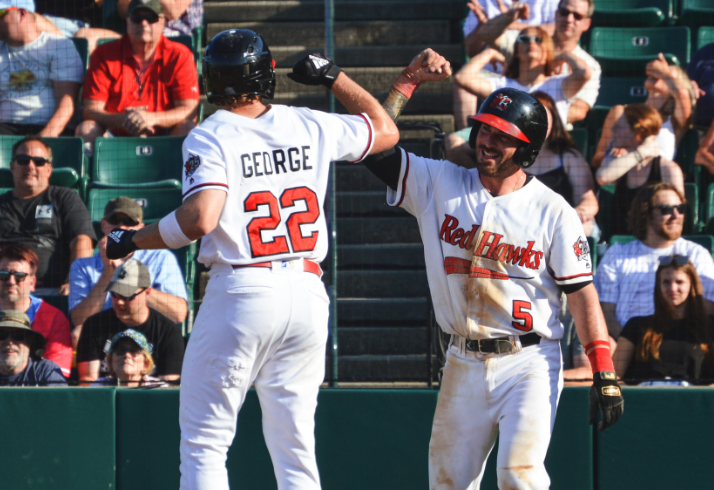 FARGO, N.D. - The Fargo-Moorhead RedHawks, who came into this weekend's series trailing Milwaukee by three games in the North Division, won their second straight game against the Milkmen, 4-3, in front of 2,984 fans at Newman Outdoor Field on Saturday night. Jordan George and John Silviano each had two-run hits in the game while Michael Hope (5-1) picked up the win. The RedHawks can draw even with Milwaukee with a win on Sunday afternoon in the series finale.
RedHawks starter Gage Hinsz (3-2) gave up only one earned run on four hits and four walks in 5.1 innings in his ninth start of the year Saturday night. An unearned run was scored on an error in the fourth inning. Hinsz was replaced by RHP Michael Hope in the sixth as he only allowed one run on a hit and three walks in 1.2 innings. RHP Ryan Flores (2-0) came on in the eighth inning and pitched two innings, allowing one hit and striking out three batters on the way to his fourth save of the year.
The RedHawks four runs were their fewest in a win since a 2-1 win over Cleburne on June 12. Designated hitter Jordan George hit a two-run home run in the second inning, his seventh home run of the season and second of the homestand. Right fielder John Silviano hit a bases-loaded, two-out, two-run single in the sixth inning to break a 2-2 tie and extended his hitting streak to seven games.
Milwaukee started right-hander Matt Solter (1-3) pitched 5.2 innings and gave up four runs on eight hits. Solter was removed from the game after Silviano's two-run single in the sixth and was replaced by RHP Zach Hartman (3-0). Hartman faced the minimum over his 1.1 innings pitched and struck out one batter. RHP Karch Kowalczyk (1-1) pitched the eighth inning and allowed only one hit while striking out one batter.
The Milkmen had six hits and seven walks but left 10 men on base in the loss. Adam Brett Walker II hit an RBI-triple in the fifth inning, which was the only Milwaukee extra-base hit of the game. Brett Vertigan (2-for-5) and Trey Martin (2-for-3, walk) were the only Milkmen with more than one hit in the game. Milwaukee scored a run each on a wild pitch and an error in the ballgame.
The RedHawks and Milkmen will conclude the series with a 1:00 p.m. game on Sunday at Newman Outdoor Field. RHP Logan Nissen (2-3, 5.75 ERA) is scheduled to make the start for Fargo-Moorhead while RHP Myles Smith (5-2, 2.95 ERA) is scheduled to start for Milwaukee.