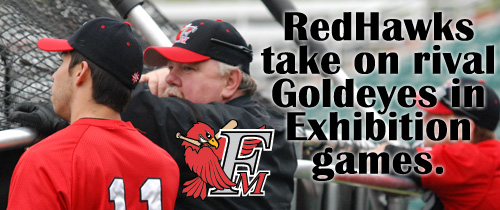 The Fargo-Moorhead RedHawks dropped a pair of exhibition games to the Winnipeg Goldeyes on Friday and Saturday night at Canwest Park in Winnipeg, MB. The RedHawks dropped to 2-3 in pre-season play.
Luis Alen hit a game-winning two-run triple Saturday night as the Winnipeg Goldeyes beat the RedHawks 3-2. Fargo went up 2-1 in the eighth inning when Jesse Hoorelbeke singled to left field, driving in Zach Penprase from third base. Penprase reached third on a wild pitch from Goldeyes hurler Ulysses Roque.
Just like last night, Fargo got on the scoreboard first. In the top of the second inning, Hoorelbeke scored on a Carlo Cota double, but RedHawks designated hitter Alan Rick was gunned out at home plate on the same play to end the top half of the inning.
Winnipeg tied the game in the bottom of the second when Vince Harrison touched home plate on a Josh Asanovich fielder's choice. Winnipeg had chances to take the lead in the game, but Aharon Eggleston was thrown out at home plate in the third inning and Travis Howell suffered the same fate in the seventh inning.
Winnipeg reliever Zach Baldwin earned the win, while Adam Tollefson took the loss for Fargo.
On Friday night, the Goldeyes rode a strong pitching performance from six different hurlers in a 4-2 win over the RedHawks.
Winnipeg right fielder Kevin West capped off a four-run fifth inning with a towering three-run home run that gave Winnipeg a 4-1 lead.
Fargo got on the board in the first inning when Zach Penprase scored all the way from first off a Nic Jackson double. The only other offense Fargo could put together was an Eric Campbell solo dinger that made the game 4-2 in the seventh inning.
Ace Walker earned the win by pitching a scoreless fifth inning, but it was Goldeyes starter Chris Salamida that set the tone early for Winnipeg. After the first three batters he faced, Salamida didn't allow a hit and struck out two RedHawks in four innings of work.
Antony Bello, Stephan Flake, Philip Roy and Andrew Barb also saw action on the mound for the Goldeyes. Barb picked up the save by throwing a scoreless ninth inning.
The RedHawks and Goldeyes conclude their exhibition schedules with a pair of games at Newman Outdoor Field in Fargo on Sunday and Monday night. Game time is 6:00 p.m. both nights.