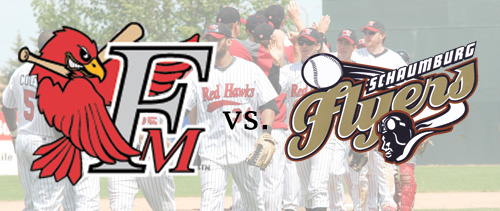 Nic Jackson hit a solo home run in the top of the eighth inning to break a 1-1 tied and give the Fargo-Moorhead RedHawks (7-4) a 2-1 victory over the Schaumburg "Pilots" (3-8) on Monday night at Alexian Field in Schaumburg, IL.
On Memorial Day, Todd Moser went 6.1 innings, giving up just one run. Yet, for the second time in three days, Schaumburg was the team left looking for answers while its opponent celebrated on Alexian Field.
The momentum started to swing the RedHawks' way in the bottom of the fifth, when Joe Pauley laid down a bunt in front of the plate that was mishandled by Fargo-Moorhead catcher Kole Zimmerman. Then Tom Fitzgerald attempted to lay down the sacrifice bunt three separate times, but fouled them off and struck out. Travis Brown came up and laced a double into right field that would have scored Pauley had the sacrifice been successful. Andre Marshall then grounded into an inning ending double play to end the threat.
The RedHawks broke the tie in the top of the eighth with Jackson's solo home run over the right field wall off of reliever Tom Lyons. The righty had not allowed a run before Monday night's appearance.
In the bottom of the ninth, Schaumburg once again had a chance to tie it up, trailing 2-1. Joe Pauley walked with one out to bring up Fitzgerald. The second baseman then struck out for the second time of the night. Yet, that wasn't the end of the excitement at Alexian Field. With a full count, leadoff hitter Brown chopped a hard grounder to first. Fargo-Moorhead's Jesse Hoorelbeke mishandled the ball, but it caromed right to second baseman Carlo Cota, who threw out Pauley trying to advance to third for the final out of the game.
The Pilots and RedHawks continue their series at Alexian Field on Tuesday night at 6:30 PM.