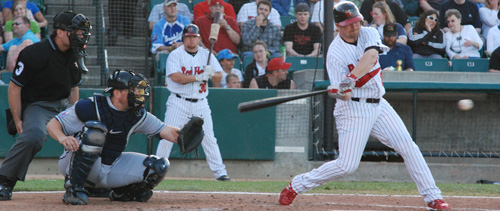 The Fargo-Moorhead RedHawks had to endure a nearly two-hour rain delay, but the outcome was worth it. The RedHawks defeated the Schaumburg "Pilots" 8-3 on Wednesday night at Alexian Field in Schaumburg, IL. The victory moved the RedHawks to 8-5 on the season, while Schaumburg fell to 5-8.
The game started out with both starting pitchers Brett Harker and Darren Byrd starting out strong but then in the top of the third inning Brett Harker gives up two runs on a Jay Cox double and a Mike Coles single for the Pilots.

In the bottom of the fourth inning a walk by Joey Gomes and a homerun by Chris Schultz tied the game up at two. But Harker would find trouble again in sixth inning, walking two batters and then giving up an RBI double to score the two men walked. Those four runs would prove to be enough for the RedHawks but the visiting team managed to tag four more in the top of the ninth inning, off a throwing error on first baseman Joe Nowicki and a three-run home run by Eric Campbell.

Before the four runs would score in the top of the ninth the game was still close. In the bottom of the sixth the Pilots brought the game back to within one run after Mike Mooney got on base and was driven in by a base hit by Joe Pauley. Momentum was on the Pilots side until the top of the seventh inning saw an hour long rain delay which gave Fargo-Moorhead time to collect themselves and seal the game with an extra four runs.