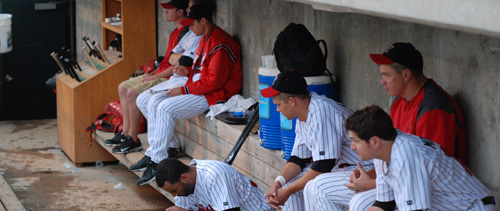 The Kansas City T-Bones defeated the Fargo-Moorhead RedHawks 8-5 in front of 2,881 fans at Newman Outdoor Field in Fargo on Saturday night. The win pulled Kansas City into a tie for first place in the Northern League with Fargo-Moorhead.
Kansas City pounded out 15 hits in the victory, including home runs by 3B Rico Washington (pictured), LF Brian Joynt and 1B Ryan Fox. Washington ended the game 2-for-5 with four RBI while CF Keanon Simon and C Eladio Rodriguez each scored a pair of runs. The RedHawks got all their offense courtesy of the long ball. 1B Jesse Hoorelbeke gave Fargo-Moorhead a short-lived 2-1 lead in the bottom of the first inning with his fifth home run of the season. 2B Carlo Cota hit a three-run homer in the fifth inning to tie the game at 5-5.
Kansas City starter LHP Brett Davis (2-1) picked up the victory. He pitched 5.0 innings and allowed five runs on four hits. He struck out three and walked two. Fargo-Moorhead reliever RHP Matt Mossey (2-1) took the loss. He pitched 3.1 innings and allowed one run on five hits, struck out three batters and did not walk a batter.
Fargo-Moorhead and Kansas City faceoff again Saturday at 6:00 p.m. at Newman Outdoor Field in Fargo. LHP Jake Laber (2-1) gets the call for the RedHawks, while LHP Ryan Knippschild (4-0) will take the hill for the T-Bones.