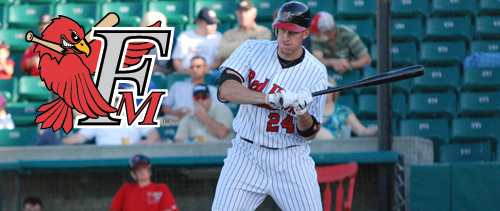 The Lake County Fielders (9-17) scored in the last three frames to beat the first place Fargo-Moorhead RedHawks (17-8) 4-3, breaking their four game losing streak.

The RedHawks got on the board first in the third inning. Jake Krause and Jay Cox started off the inning with back-to-back singles off of starting pitcher John Brownell. Mike Coles stepped to the plate and laced a two-run double to push the first runs of the game across.
The Fielders were scoreless until the sixth inning when Amos Ramon got his second leadoff single of the game. Joe Ramos struck out swinging, then Josh Short came to the plate and drilled his eighth homer of the year. Amos Ramon tied the game in the seventh inning with an RBI double to score Anthony Esquer.

Aggressive baserunning from Brandon Anderson got the Fielders the lead in the eighth. Anderson came in to pinch run for Brian McFall who was hit by a Casey Hoorelbeke pitch. Anderson stole second and advanced to third on a throwing error by RedHawks catcher Alen Rick. With the lead run on third, Hoorelbeke threw a pitch in the dirt that bounced past the catcher and Anderson reached home to take the lead for the Fielders.

Garrett Sherrill (3-0) earned his third win of the season, pitching one scoreless inning with Chris Homer earning his fourth save of the year. Brownell pitched six innings, giving up five hits, three earned runs and struck out three. Hoorelbeke took the loss for the RedHawks throwing one and two-thirds innings, giving up one hit, one earned run and striking out three.

The Fielders wrap up the series Sunday at 1:00pm at Carthage College. The Fielders will send RHP Garry Bakker (1-3, 4.03) opposite RHP Chad Rhoades (3-0, 1.44) to the mound.