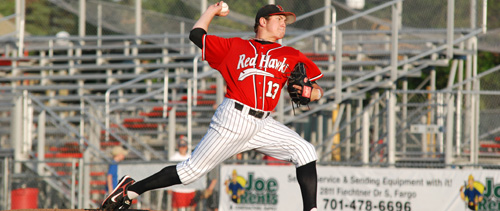 Matt Mossey fired a one-hit shutout to lead the Fargo-Moorhead RedHawks over the Gary SouthShore RailCats 7-0 in front of 4,025 fans on Thursday night at Newman Outdoor Field. Mossey (3-1) struck out five and did not allow a walk in the 95-pitch gem. Mossey faced the minimum twenty seven hitters on the evening.

Fargo-Moorhead (20-10) struck early on a leadoff home run by right fielder Mike Coles in the first inning. They tacked on four more runs in the second, the big blow coming on a bases loaded double by shortstop Zach Penprase that cleared the base paths. The RedHawks closed out their scoring in the third inning on Eric Campbell's two-run home run, his seventh of the season.
Gary (18-16) got their only hit of the night in the eighth inning on a slow roller to short by third baseman Jeff Beachum. Jake Krause, having replaced on injured Penprase in the second inning, stayed back on the ball and Beachum beat his throw by half a step at first. The next hitter for the RailCats, Louis Ott, bounced into a 4-6-3 double play to end the inning.

Tom Thornton (1-1) pitched six innings and took the loss for Gary. He gave up seven runs on eight hits while striking out two.
Carlo Cota was 2-for-4 with a double for Fargo-Moorhead and Penprase was 1-for-2 with three RBI.
The two teams will meet again tomorrow night with the first pitch scheduled for 7:02pm. Left Brad Halsey (1-2, 4.74) will get the nod for Gary while the RedHawks will send Fargo native Jake Laber (3-1, 4.50) to the hill.