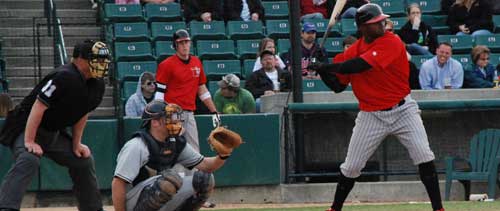 The St. Paul Saints defeated the Fargo-Moorhead RedHawks 7-1 in pre-season Northern League/American Association baseball in front of 1,964 fans on Monday night at Newman Outdoor Field in Fargo.
St. Paul starting pitcher RHP Tanner Scheppers picked up the win for the Saints after throwing 4.0 innings of hitless baseball. He struck out six batters and walked four in his professional debut in front of approximately a dozen Major League scouts. Scheppers is expected to be a high first round pick in the 2009 Major League Baseball draft.
The RedHawks managed just three hits on the evening, getting an RBI double from 3B Yurendell DeCaster and singles from 1B Jeremiah Piepkorn and DH/C Kole Zimmerman. RF Jacob Butler and CF Daron Roberts each drove in a pair of runs for St. Paul.
RedHawks starter RHP Yosandy Ibanez took the loss for Fargo-Moorhead. He pitched 2.0 innings and allowed two runs on four hits. Ibanez struck out two batters and walked one.
The RedHawks continue their pre-season schedule on Tuesday night, when the Winnipeg Goldeyes will pay a visit for a 6:00 p.m. game. All tickets are $6.00 for the game and can be purchased in advance or at the gate.
<redhawks>