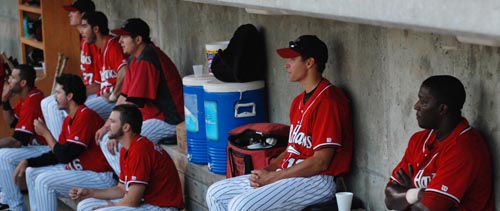 The Winnipeg Goldeyes pounded out 21 hits en route to a 16-7 thrashing of the Fargo-Moorhead RedHawks on Saturday night at Newman Outdoor Field. The Goldeyes scored in seven different innings and every starter had at least one hit.
Designated hitter Juan Diaz had a huge night at the plate for Winnipeg. The slugger went 4-for-5 and drove in four runs. Diaz also scored three times in the game.
Aharon Eggleston, Justin Justice and Zach Williams each had three hits for the Goldeyes. Eggelston, Justice and Luis Alen all hit home runs in the game.
Goldeyes (42-42) starting pitcher Antony Bello (4-6) picked up the win, tossing 5.2 innings. The southpaw gave up four runs (three earned) while striking out two and walking two.
Fargo-Moorhead (48-34) starter Matt Mossey (7-4) was sent to the showers after just 2.2 innings of work. The righty allowed seven runs on seven hits while striking out one and walking one.
First baseman Alan Rick went 2-for-5 with three RBI in the game for the RedHawks. Mike Coles, Jesse Hoorelbeke and Carlo Cota all had a pair of hits on the night.
The two teams will wrap up their four-game series tomorrow afternoon starting at 1:00pm. Winnipeg will send Jason Mackintosh (1-4, 5.03) to the hill while Fargo-Moorhead will counter with Jake Laber (8-4, 4.03).