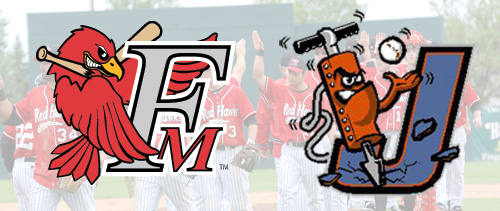 Devin Anderson won his fourth straight start and the Joliet JackHammers (50-44) earned their 50th win of the season, courtesy of a 4-1 victory Tuesday night over the first place Fargo – Moorhead RedHawks (56-37) in front of 3,422 fans at Silver Cross Field. The JackHammers evened up their record at 5-5 against the RedHawks with two games left in the season series.
Joliet plated solo tallies in the first and second innings for an early 2-0 lead. The first three reached base in the first against Matt Zoltak (1-1). Josh Flores singled into left field, Jonathan Wyatt was hit by a pitch and Brad Correll walked to load the bases with nobody out. After Jon Nelson struck out, Freddie Thon lifted a sacrifice fly to center to score Flores from third. Richard Mercado singled to right, but Jeremiah Piepkorn gunned down Wyatt on a close play at the plate to keep it a 1-0 game.
The JackHammers backed Devin Anderson (7-4) with another run in the second, which turned out to be the game winning run. Roberto Mena doubled down the left field line to score Chris Colton, who singled with one away.
Anderson did the rest scattering seven hits over seven frames to earn his seventh victory. The southpaw allowed only one unearned run in the fifth inning on an infield single by Mike Coles. Carlo Cota singled and Alan Rick reached on a Kevin Rios error to give Fargo two runners on with no one out. Zach Penprase laid down a sacrifice bunt and Coles followed with the infield single to short.
Joliet tacked on two runs in the fifth and seventh frames to lock down the 4-1 victory. Wyatt knocked home a run in the fifth with a single against a drawn in infield and Thon plated the final run in the seventh with a base hit to right field.
Zoltak tossed six innings in the setback, allowing four runs on six hits with four walks and seven strikeouts. Casey Hoorelbeke and Donnie Smith went the final two frames with Hoorelbeke allowing an inherited runner to score in the seventh.
Erik Hamren picked up his first save with the JackHammers in impressive fashion, striking out five of the six batters he faced for the two inning save.
Wyatt led the 'Hammers with two hits while Thon drove in a game high two runs.
The JackHammers and RedHawks continue their three game series tomorrow night at Silver Cross Field. Todd Privett (9-4) will take the bump for Joliet while Fargo-Moorhead has yet to announce a starter.