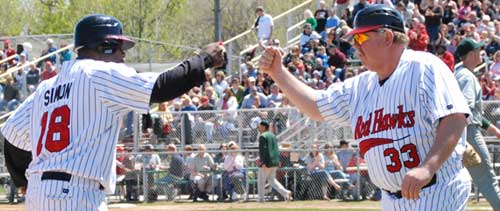 The Gary SouthShore RailCats (2-1) held off a ninth inning rally and defeated the Fargo-Moorhead RedHawks 8-7 to win the rubber match game in front of a standing-room only crowd of 5, 748 on Sunday afternoon at Newman Outdoor Field.
With two outs in the first inning, Gary DH Steve Haake doubled down the right field line scoring SS Jay Pecci from first. 2B Eric McNamee hit a two-run single and C Brett Wallace hit a two-run triple to give the RailCats a 5-0 lead.
In the second inning, RedHawks 1B Randall Simon hit his second solo homerun in as many games. RedHawks SS Zach Penprase stole second base and then third scoring on 2B Carlo Cota's third inning sac fly.
RailCats 1B Mike Rohde tripled to left-center and scored on McNamee's sac fly to give the RailCats a 6-2 lead in the fifth inning. RedHawks 3B Yurendell DeCaster hit a seventh inning solo shot over the left field scoreboard to move the RedHawks within three.
In the top of the ninth inning, Pecci and McNamee hit RBI singles to give the RailCats an 8-3 lead. During the RedHawks last at-bats, Penprase, Cota and 2B Nic Jackson each hit RBI singles moving the RedHawks within one run.
RailCats starting pitcher LHP Tom Thornton pitched four innings allowing two runs on three hits. RHP Eddy De La Cruz (1-0) earned his first win of the season and closer Aaron Cook gave up four runs on four hits, but closed out the game in a no save situation. RedHawks starting pitcher RHP Billy Weitzman (0-1) suffers the loss.
The RailCats take two games of the three-game series, while the RedHawks fall to 1-2. After an off day Monday the RedHawks open a three game home stand against the Winnipeg Goldeyes Tuesday night at 7:02 p.m. at Newman Outdoor Field. Fans can purchase tickets or all future RedHawks home games by calling 701-235-6161, online at www.fmredhawks.com or by stopping by the Newman Outdoor Field ticket office.