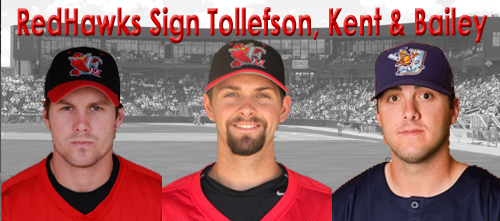 The Fargo-Moorhead RedHawks added three pitchers to the roster today as the team prepares for its first season in American Association. The RedHawks re-signed LHP Adam Tollefson and RHP Alex Kent and have signed RHP Griffin Bailey to contracts. The RedHawks now have 12 players signed for the 2011 season.
Tollefson, 24, was 4-1 with a 3.29 ERA and three saves in 41 games for the RedHawks in 2010. In 38.1 innings pitched he allowed 17 runs (14 earned) on 34 hits, walked 11 batters and struck out 38. Tollefson held opponents to a .236 batting average against him last season, while left-handed batters hit just .123 against him.
Tollefson originally signed with the RedHawks late in the 2009 season and appeared in 15 games that year. He began his professional career in 2007 in the Chicago White Sox organization and is 12-3 with a 3.89 ERA in 96 professional games over four seasons.
Kent, 23, appeared in ten games for the RedHawks in 2010 and posted a 2-0 record with a 2.84 ERA. He pitched 19.0 innings and allowed 11 runs (6 earned) on 22 hits, struck out 13 batters and walked just three. Kent's season ended in July when he was shut down due to arm fatigue. Kent signed with the RedHawks last summer following a successful college career at Central Missouri State University.
Bailey, 26, was 4-4 with a 3.86 ERA and 15 saves in 45 games with the Joliet JackHammers of the Northern League in 2010. In 46.2 innings, Bailey allowed 23 runs (20 earned) on 49 hits. He struck out 37 batters, walked 12 and opponents batted .275 against him last season as he helped the JackHammers to their first post-season appearance since 2002.
Bailey began his professional career in 2006 after signing with the Houston Astros organization as a non-drafted free agent following his college career at the University of Louisville (KY). In five professional seasons, Bailey is 15-18 with a 3.57 ERA and 23 saves in 151 games. He has also pitched for Southern Illinois of the Frontier League, Sioux City of the American Association and in the New York Yankees organization.