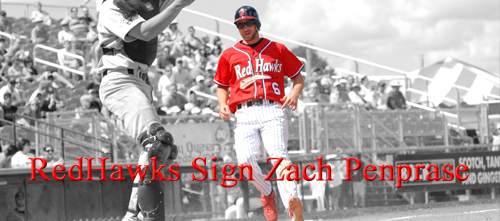 The Fargo-Moorhead RedHawks have agreed to terms with SS Zach Penprase for 2011 and have signed INF Alex Sumner to a contact, the American Association club announced today.
Penprase, 26, batted .236 with 16 doubles, one triple, four home runs, 39 RBI and 62 runs scored for Fargo-Moorhead in 2010. He led the Northern League with 41 stolen bases and stolen base percentage (.953) and was second in sacrifice hits (10).
Penprase is entering his fourth season with Fargo-Moorhead in 2011. In his first three seasons, he has batted .283 with 50 doubles, nine triples, 12 home runs, 114 RBI and 204 runs scored in 249 games. He has stolen 109 bases in 128 attempts and set the Northern League record with 100 runs scored in 2009.
Penprase was originally selected by Philadelphia Phillies in the 13th round of the 2006 draft out of Mississippi Valley State University. He spent two seasons in the Phillies organization and finished the 2008 season with the Boston Red Sox organization after his contract was purchased from the RedHawks.
Sumner, 24, joins the RedHawks after spending last season in both the New York State League and the Golden Baseball League. He batted .363 with eight doubles, 17 RBI, 35 runs scored and 23 stolen bases in 55 games with three clubs in the New York State League. Sumner finished the season with the St. George Roadrunners of the Golden League, where he batted .265 (9-for-34) with a double, two RBI and two runs scored in 12 games.
Sumner resides in East Grand Forks, MN and played college baseball at Dakota Wesleyan University in Mitchell, SD.