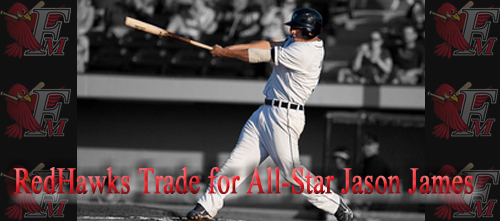 The Fargo-Moorhead RedHawks have acquired the rights to All-Star OF Jason James from the Rockford Riverhawks in exchange for LHP Matt Zoltak and cash. The RedHawks have also signed RHP Alex Kaminsky and INF Damon Lessler to contracts, the American Association club announced.
In 2010, James batted .283 with 24 doubles, two triples, ten home runs, 57 RBI and 47 runs scored in 98 games for Rockford
. James was selected as a starting outfielder for the Northern League team in the 2010 Northern League/Golden Baseball League All-Star Game in Tucson.
In his five-year professional career, all with Rockford, James has hit .337 with 110 doubles, seven triples, 44 home runs, 256 RBI and 227 runs scored in 404 games
. He has a career slugging percentage of .502 and a career on-base percentage of .420. James is a four-time All-Star, earning honors in the Frontier League in 2007, 2008 and 2009 and last season in the Northern League.
Kaminsky, 23, signed last season with the Cleveland Indians organization as a non-drafted free agent after completing his college career at Wright State University in Ohio. He was 6-5 with a 2.48 ERA in 14 starts for the Mahoning Valley Scrappers of the New York-Penn League (A).
In 69.0 innings pitched, Kaminsky allowed 20 runs (19 earned) on 55 hits. He struck out 58 batters, walked 18 batters and held opponents to a .222 batting average against him. Kaminsky also made one appearance with the Akron Aeros of the Eastern League (AA), where he pitched 3.0 innings, allowed two hits and struck out two.
Lessler, 28, joins the RedHawks after playing this winter in Australia and last year in Germany and Sweden. He last played professionally in the United States in 2008
, when he batted .146 (6-for-41) in 22 games for the Traverse City Beach Bums of the Frontier League. Lessler previously played in the American Association in 2007 with the Sioux Falls Canaries, where he hit .211 with one double, three home runs, 16 RBI and 15 runs scored in 38 games.
|
Back to index...