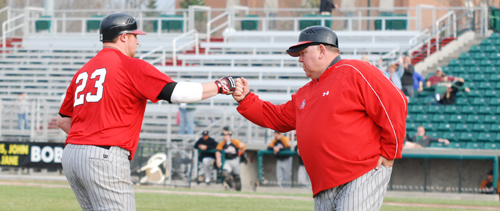 MAY 9, 2011
REDHAWKS TOP SIOUX FALLS 7-4 TO SPLIT SERIES
FARGO
, N.D.
– The Fargo-Moorhead RedHawks rebounded Monday night to defeat the Sioux Falls Pheasants 7-4 to earn a split of the two-game exhibition series at Newman Outdoor Field in Fargo, ND.
The RedHawks went down 3-0 in the first inning when the Pheasants scored three earned runs on starting pitcher Alex Kaminsky. After the rocky start, Kaminsky was able to pitch through the 5th inning without giving up any more runs and only allowing four total hits.
Jesse Hoorelbeke came to Kaminsky's rescue with a three run home-run in the bottom of the 3rd inning to tie the game at 3-3. Then, a string of four straight singles in the 4th inning gave the RedHawks a lead of 4-3.
Matt Mossey allowed one run in the 6th inning but was credited with the win as the RedHawks scored one run in each inning from six through eight on Sioux Falls reliever Dan McDaniel, who took the loss. Griffin Bailey came in to close the game in the 9th inning and earn the save.
The RedHawks will open the regular season in Winnipeg on Thursday, May 12, 2011. Opening day first pitch will occur at 7:02 pm on Monday, May 16, 2011 at Newman Outdoor Field.