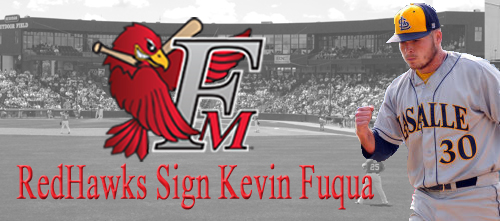 The Fargo-Moorhead RedHawks have signed RHP Kevin Fuqua (FEW-kwah) and placed LHP Chris Siegfried on the Inactive List. Fuqua is expected to be in uniform tonight as the RedHawks continue a three-game series against the Sioux Falls Pheasants at Sioux Falls Stadium.
Fuqua, 22, finished his college career at LaSalle University in Philadelphia, where he was a Second Team All-Atlantic 10 selection this year
. Fuqua was 6-4 with a 2.92 ERA in 15 starts in 2011. He pitched 104.2 innings and allowed 46 runs (34 earned) on 108 hits. Fuqua struck out 75 batters and walked 25.
In four years at LaSalle, Fuqua was 16-21 with a 4.65 ERA in 64 games (46 starts). In 331.0 innings pitched, he struck out 222 batters.
Siegfried was placed on the Inactive List with an arm injury. He was 1-1 with a 3.46 ERA in nine relief appearances for the RedHawks this season.