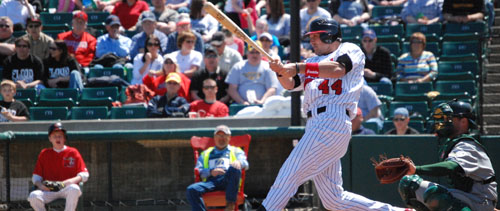 The Fargo-Moorhead RedHawks defeated the Gary SouthShore RailCats 6-5 in 10 innings in front of 2,686 fans on Friday night at Newman Outdoor Field in Fargo. The RedHawks improved to 6-6, while Gary dropped to 6-8.
The RedHawks scored in their first at-bats. RedHawks 1B Randall Simon hit a broken bat single to score SS Zach Penprase from second for an early 1-0 lead.
RailCats DH Isaac Omura hit a two out double and scored on C Brett Wallace's RBI single to make it 1-1 in the top of the second inning. RailCats CF Rob Marconi reached on an error by RedHawks starter LHP Scott Fogelson and stole his second base of the season. Marconi scored on 1B Steve Haake's two-run homerun, his third of the season.
Penprase hit a bunt-single and advanced to third on RedHawks 3B Yurendell DeCaster's single to left-center. Penprase scored on RailCats 3B Mike Rohde's error to make it 3-2. With one out in the third inning Simon hit a long ball single off the right field wall to score RedHawks CF Nic Jackson from second and tie the game at three all. With the bases loaded RedHawks DH Mike Coles hit an infield single to score DeCaster from third to give the RedHawks a 4-3 lead.
RedHawks RF Jeremiah Piepkorn extended his hit streak to 10 with his second homerun of the season to give the RedHawks a 5-3 fifth inning lead. Rohde scored on an infield groundout to short to make it 5-4 in the seventh.
In the top of the ninth the RailCat's benefited from two wild pitches and Rohde scored on Omura's single to tie the game 5-5. With two men on in the bottom of the 10th inning, RedHawks 2B Carlo Cota put down a sac bunt to move Penprase and Justice into scoring position. The RailCats intentionally walked Jackson to load the bases and set-up the double play. DeCaster hit a grounder to short that retired Justice at home, but the throw from Wallace sailed past the first baseman allowing Penprase to score the game winner from second base.
The RedHawks host the RailCats for the second game of this three-game set tomorrow at Newman Outdoor Field. Game time is 6:00 p.m.