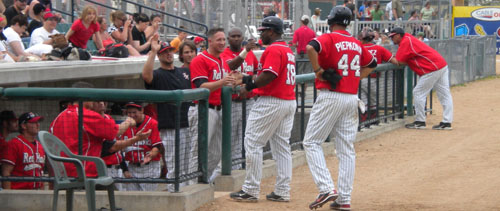 The Fargo-Moorhead RedHawks powered past the Gary SouthShore RailCats 14-8 in the Sunday matinee at Newman Outdoor Field before 2,372 fans. The victory gave the RedHawks a sweep of the three-game weekend series and improved their record 8-6 overall. Gary dropped to 6-10.
SS Zach Penprase extended his hit streak to 10 games with a leadoff double to dead center. 2B Carlo Cota singled over the mitt of RailCats SS Jeff Beachum to plate Penprase. RF Jeremiah Piepkorn extended his hit streak to twelve games with a two-run smash to left to cap the RedHawks five-run first.
RailCats 2B Eric McNamee hit a two-out two-bagger to plate a pair of runs and put the RailCats on the board 5-2 in the third inning.
Penprase lifted his first homerun of the season over the right field Coca-Cola banner to make it a 6-2 ballgame. With nobody out and men at the corners Piepkorn grounded into an RBI fielders choice to give the RedHawks an 8-4 lead.
RF Jordan Czarniecki tripled off the center field batters eye and the RailCats rallied for a three-run seventh to make it 9-7. But the RedHawks responded with their second five-run inning of the eighth highlited by 3B Yurendell DeCaster two-run homerun.
RedHawks starter LHP Broc Coffman pitched five innings allowing four runs on eight hits for his third win of the season. RailCats starter LHP Onan Masaoka suffers the loss.
The RedHawks open the second half of this seven game home stand tomorrow night against the Schaumburg Flyers. Game time is 7:02 p.m.