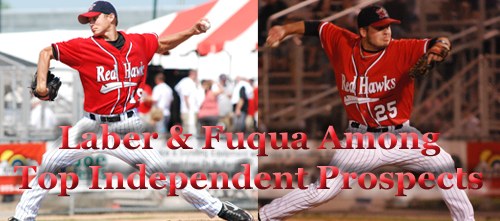 The Fargo-Moorhead RedHawks have two of the best young pitchers in independent baseball, according to Baseball America magazine. They are the only two players from the American Association named to the list.
LHP Jake Laber was ranked the second best prospect in independent baseball, while RHP Kevin Fuqua checked in at number five on the list, which was compiled in the October 17th issue of Baseball America.
The Top 10 Prospects List considers all players in independent baseball age 25 and younger.
Laber, 25, was 10-7 with a 3.55 ERA in 23 games (21 starts) for Fargo-Moorhead in 2011.
The Fargo native pitched a team-record 139.1 innings and struck out a team-high 100 batters. It was the second consecutive season Laber reached double-digit wins for Fargo-Moorhead.
Fuqua, 22, was 1-2 with a 1.60 ERA and three saves in 21 games for the RedHawks in 2011.
After signing with the RedHawks out of LaSalle University (PA) in June, Fuqua pitched 33.2 innings and struck out 29 batters. In 20 games out of the bullpen, Fuqua had a 0.83 ERA for the RedHawks.
BASEBALL AMERICA TOP 10 PROSPECTS IN THE INDEPENDENT LEAGUES
No. Name Pos. 2011 Team 2011 League
1. Marshall Schuler RHP Normal Cornbelters Frontier
2. Jake Laber LHP Fargo-Moorhead RedHawks American Assoc.
3. Ryan Sheldon RHP Normal Cornbelters Frontier
4. Travis Weaver SS Lake County Fielders North American
5. Kevin Fuqua RHP Fargo-Moorhead RedHawks American Assoc.
6. Jake Rife OF Chico Outlaws North American
7. Bobby Pritchett RHP Normal Cornbelters Frontier
8. Landon Camp 3B San Angelo Colts North American
9. Zach Woods RHP Brockton Rox Can-Am
10. Jimmer Kennedy RHP Brockton Rox Can-Am