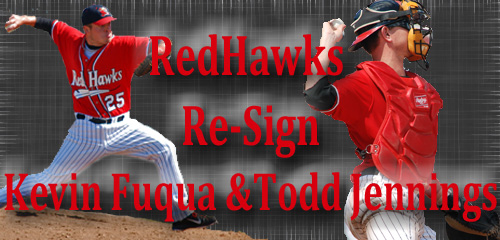 The Fargo-Moorhead RedHawks have re-signed C Todd Jennings and RHP Kevin Fuqua to contracts. Both are expected to be in Fargo when the RedHawks open training camp in early May.
Jennings, 30, appeared in 35 games for Fargo-Moorhead in 2011. He batted .273 with five doubles, nine RBIs and 14 runs scored
. Jennings also stole two bases and posted a .355 on-base percentage. He was solid behind the plate as well, gunning down 36.1 percent (13-of-36) of stolen base attempts and posting a .993 fielding percentage. Jennings began the season with the Rockland (NY) Boulders of the Can-Am League, where he hit .266 in 22 games.
Jennings was selected by the San Francisco Giants in the 2nd round of the 2003 draft out of Long Beach State University
. He advanced through the Giants chain and reached the Triple-A level in 2007 and 2008, before injuries cost him the 2009 season. Jennings spent the 2010 season in the Atlantic Leageu.
Fuqua, 23, signed with the RedHawks last June after completing his college career at LaSalle (PA) University.
In 2011, Fuqua was 1-2 with a 1.60 ERA and three saves in 21 games (one start). He pitched 33.2 innings and allowed 13 runs (six earned) on 31 hits. Fuqua struck out 38 batters and walked 19. In 20 relief appearances, Fuqua boasted a miniscule 0.83 ERA and held opponents to just 26 hits in 32.2 innings pitched.
"As we are putting together the 2012 roster, these are two guys we feel will be major contributors to us," said RedHawks Manager Doug Simunic. "Jennings is going to get a chance to catch a lot for us, and we really liked what we saw from him in a short window last year. Fuqua was one of the best young pitchers in independent baseball last year and we think he can be even better this season."