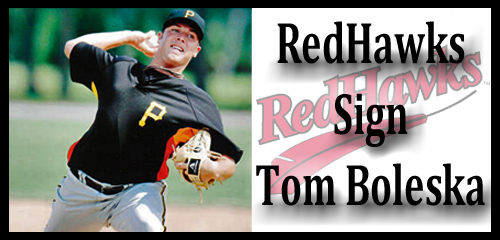 The Fargo-Moorhead RedHawks have added another arm to the bullpen as the club signed RHP Tom Boleska to a contract. Boleska will be in Fargo when the RedHawks open training camp on May 5.
Boleska, 25, was 3-3 with a 2.11 ERA and 11 saves for the Edmonton Capitals of the North American League in 2011
. In 47.0 innings pitched, he allowed 15 runs (11 earned) on 34 hits. Boleska struck out 56 batters and walked just 11 in helping Edmonton with the league championship. Following the season, Boleska was named a North American League All-Star.
Boleska began his professional career in 2007 after being selected in the 35th round by the Pittsburgh Pirates. In five seasons in the Pirates organization, Boleska was 9-9 with a 2.73 ERA and 12 saves. He pitched as high as Double-A with the Altoona Curve of the Eastern League in both 2010 and 2011.
"We have been looking for someone to pitch the ninth inning for us, and we found him with Boleska," said RedHawks Manager Doug Simunic. "He has been a solid professional who has been successful everywhere he has played. We're happy to have him join the RedHawks."
Boleska is the 11th player, and sixth pitcher, signed for the 2012 season by the RedHawks.