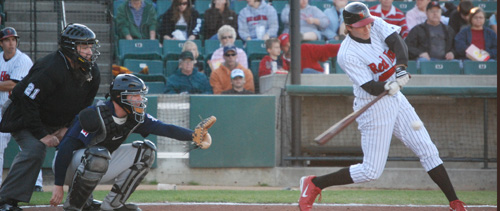 The Schaumburg Flyers completed the four-game sweep of the Fargo-Moorhead RedHawks with a 7-2 win at Newman Outdoor Field Thursday night in front of 3,267 fans. The Flyers improve to 11-6 and the RedHawks fall to 8-10. It is the second time the RedHawks have been swept at home this season.
RedHawks SS Zach Penprase stretched his hit streak to 14 games with a leadoff single in the first inning. 3B Yurendell DeCaster , coming off a three home run game last night, looped a single to left to plate Penprase and give the RedHawks a 1-0 first inning lead.
Flyers LF Jeff Dunbar doubled to left to score DH Felix Jose, who drew the walk, to tie the game 1-1 in the second. 2B Jose Valdez singled to left to give the Flyers a 2-1 lead, which they would not give back.
With the bases loaded and one out in the top of the third, Valdez cracked a single to right to score 3B Vince Harrison from third. RF Victor Ferrante hit a bases-clearing double to cap the Flyers four-run inning and chase RedHawks starting pitcher LHP Justin Phillips (0-1), who took the loss.
RedHawks RF Jeremiah Piepkorn doubled to dead center to score 1B Randall Simon from first and make it 6-2 in the bottom of the fourth. In the top of the sixth inning, SS Travis Brown scored on a Harrison sacrifice fly to give the Flyers a 7-2 lead and cap the scoring.
Flyers starting pitcher RHP Edwin Almonte (2-0) got the win for Schaumburg. He allowed two runs on four hits over 8.0 innings with four strikeouts.
The RedHawks open a three-game series at Winnipeg on Friday night. LHP Broc Coffman (3-1) gets the start against LHP Daniel Haigwood will start for Winnipeg.
|
Back to index...