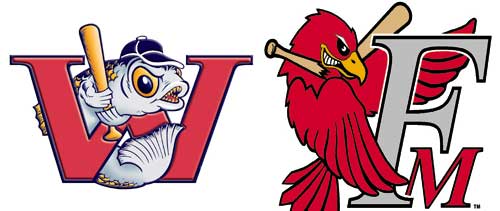 The Winnipeg Goldeyes, behind an eight-run second inning, defeated the Fargo-Moorhead RedHawks 13-6 on Friday night at CanWest Park in Winnipeg, MB. 5,759 fans were on hand to see the RedHawks fall to 8-11 overall, while the Goldeyes moved to a league-best 13-5.
Winnipeg 3B Brent Metheny kicked off the scoring with a solo home run in the bottom of the first inning off RedHawks LHP Broc Coffman (3-2), who would be tagged with the loss. The Goldeyes exploded for eight runs on seven hits, all for extra bases, in the top of the second inning and cruised in for the victory.
The RedHawks got three-hit games from LF Mike Coles and 1B Randall Simon, while DH/C Kole Zimmerman added a three-run double.
Winnipeg LHP Daniel Haigwood (1-0) took the win. He allowed four runs on eight hits in 5.0 innings pitched. Haigwood struck out four batters and walked one. Coffman allowed ten runs on ten hits in 3.0 innings of work in a losing effort.
The RedHawks and Goldeyes will play game two of their three-game series in Winnipeg on Saturday night at 6:05 p.m. RHP Garry Bakker takes the mound for Fargo-Moorhead, while the Goldeyes will counter with RHP Bear Bay.