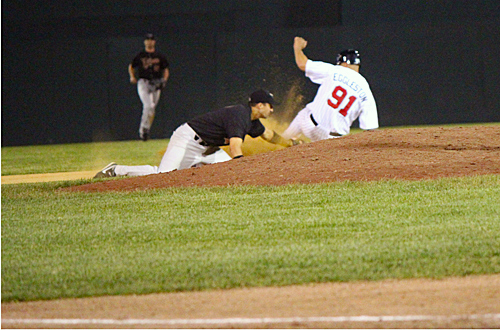 Fargo, ND – The RedHawks scored two runs in the ninth but were unable to push a game-tying run across home in the bottom of the inning which led to the Kansas City T-Bones 4-3 victory over Fargo-Moorhead at Newman Outdoor Field on Monday, June 04, 2012.
The RedHawks began their rally in the ninth with Buddy Sosnoskie reaching second after a single and an error by T-Bones second baseman Reid Fronk. Enrique Cruz reached first on the error giving the RedHawks two runners on base with one out.
Ryan Stovall hit a line drive single to centerfield that scored Sosnoskie and cut the Kansas City lead to 4-2.Next batter Aharon Eggleston hit into a fielder's choice with Cruz and Stovall on the corners, but Cruz was able to score on the play cutting the deficit to 4-3. After a stolen base by Eggleston and Zach Penprase walk, T-Bones reliever Lucas Irvine was able to get Nic Jackson to hit a groundball to first baseman Justin Bass and give the T-Bones the series opening win, 4-3.
Kansas City had one big inning in the fourth off of RedHawks starter Jake Laber. Three hits by Ray Sadler, Devin Goodwin, and Trevor Coleman would highlight the three-run inning for the T-Bones. Kala Ka'aihue and Reid Fronk would both get RBIs on Sacrifice Fly's while Coleman picked up an RBI on a double down the left field line to give Kansas City a 3-1 lead.
Laber pitched seven innings and gave up three earned runs on five hits, three walks, and two strikeouts. His record falls to 0-2 on the 2012 season. Kevin Fuqua, Daniel Morari, and Tom Boleska finished off the last two innings for the RedHawks in relief.
T-Bones starter Nick Singleton had a strong performance pitching seven innings and giving up one run (none earned), on five hits with five strikeouts. Singleton picked up his third win of the season improving his record to 3-1. Steve Kent and Irvine combined to work the last two innings for Kansas City. Irvine gave up two runs on two hits in the ninth but picked up the save, his first this season.
The lone run for the RedHawks came in the first off the bat Ryan Delgado. His single brought in Jackson and gave the RedHawks an early 1-0 lead.
Kansas City had only six hits in the ballgame compared to Fargo-Moorhead 's nine. Kansas City was led by Trevor Coleman who went 2-for-4 at the plate with a double and an RBI. Goodwin had two of the four T-Bones runs.
Stovall and Sosnoskie lead the RedHawks at the plate. Stovall went 3-for-4 and had a stolen base and an RBI single. Recently acquired Sosnoskie has contributed early, going 2-for-4 tonight and scoring a run.
The RedHawks (7-10) and Kansas City T-Bones (9-8) continue their four-game series Tuesday night at 7:02 p.m. at Newman Outdoor Field. The probable starters for Tuesday are Tyler Herron for Fargo-Moorhead and Devin Anderson for Kansas City.