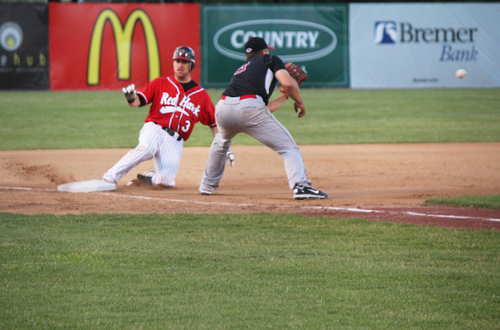 RedHawks starting pitcher Paul Burnside pitched 7 1/3 shutout innings to lead Fargo-Moorhead to a 7-0 victory over the Sioux City Explorers at Newman Outdoor Field on June 18, 2012 in front of a crowd of 3, 401.
The RedHawks capitalized on two Sioux City errors in the fourth. Zach Penprase reached second on a throwing error by Explorers third baseman Wally Backman Jr. After reaching third on another throwing error by Sioux City starter Richard Salazar, Penprase crossed home on a sacrifice fly by Nic Jackson to give Fargo-Moorhead an early 1-0 lead.
Burnside would get some help defensively in the fifth. After two walks began the inning, RedHawks second baseman Carlo Cota began a 4-6-3double play with one out to end the Sioux City threat.
The RedHawks offense exploded for four runs in the fifth. Sergio Pedroza, Ryan Stovall, Aharon Eggleston, Marcos Rodriguez, and Cota all singled in the inning that featured RBIs by four players to extend the lead to 5-0.
Fargo-Moorhead would put up two insurance runs in the eighth with a triple off the right center field wall by Stovall that scored Ryan Delgado and Cota.
The RedHawks defense turned three double plays in the game. "I was getting myself into trouble," said RedHawks starter Paul Burnside. "But I got those double plays which are a pitcher's best friend. It was fun to see the defense play that well."
Fargo-Moorhead (13-17) extended their win streak to four with tonight's victory. Starter Paul Burnside picked up the victory and improved his record to 3-3 on the season. In 7 1/3 innings of work, Burnside allowed only three hits on three walks with three strikeouts. Daniel Morari and Kevin Fuqua combined to finish the final 1 2/3 innings giving up only one hit to the Explorers lineup.
Sioux City (16-16) starter Richard Salazar picked up the loss which dropped his record to 3-4 after giving up nine hits, five runs (four earned), and one walk in seven innings pitched.
The RedHawks had eight different players with hits. Ryan Stovall led the charge batting 3-for-4 with a run and two RBIs on his eighth inning triple. Aharon Eggleston also had a multi-hit game batting 2-for-3 with a run and a RBI.
Sioux City had three players with hits, with Michael Lang going 2-for-3 and raising his average to .407 on the season which is second in the American Association.
The RedHawks and Explorers continue their three-game series tomorrow night at 7:02 p.m. at Newman Outdoor Field. The probable starters are Aaron Shafer for Fargo-Moorhead and Jason Jarvis for Sioux City.