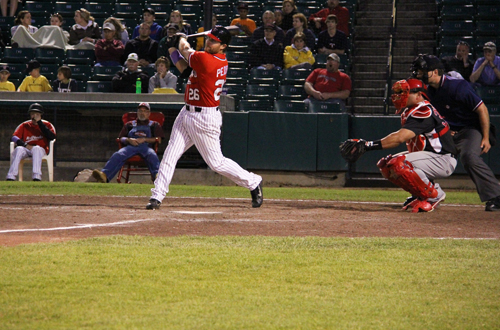 Fargo-Moorhead centerfielder Nic Jackson hit a go-ahead single in the seventh and closer Tom Boleska held Sioux City to just one run in the ninth to give the RedHawks a 6-5 home series finale victory over the Explorers on June 20, 2012 at Newman Outdoor Field.
Ryan Stovall started the RedHawks' seventh inning rally with a double to left center and advanced after a fly out by Carlo cota. Aharon Eggleston reached second after an intentional walk and a stolen base to set up Jackson. With two outs, Jackson hit a two-run single over Sioux City shortstop Brian Bistagne to give the RedHawks their first lead since the second inning.
Sioux City wouldn't go down without a fight. Three consecutive one-out singles by Brandon Newton, Yusuke Inoguchi, and Michael Lang cut the deficit to 6-5. However, Boleska shut the door on the Explorers with a strikeout and a groundball out to end the game.
RedHawks reliever Mike Zenko pitched well after replacing starter Jake Laber. Zenko earned a win after pitching 2 1/3 innings without giving up a hit and striking out one batter. Fargo-Moorhead starter Jake Laber pitched 5 1/3 innings giving up 10 hits and four earned runs. Tom Boleska pitched 1 1/3 innings allowing one earned run in the ninth while earning his eighth save of the season.
Sioux City starter Alain Quijano pitched four innings before coming out of the game after an apparent injury during the third inning. Eddie Delacruz pitched 2 1/3 innings for the Explorers and picked up the loss after the runners he was responsible for in the seventh scored off Chris Bodishbaugh. Delacruz's record on the season is now 1-2.
Sioux City (17-17) out-hit the RedHawks 14-8 in the defeat, with five different players having multi-hit games. Newton led the way going 3-for-5 with two runs scored.
Fargo-Moorhead (14-18) had six different players with hits. Sergio Pedroza picked up his second home run of the season in the sixth which at the time brought the score to 4-4. Jackson's clutch hit in the seventh brought him to 2-for-4 on the night with a run scored and two RBIs.
Fargo-Moorhead picked up the series victory tonight winning two out of three against Sioux City. The RedHawks are now 5-11 at home this season.
Nic Jackson explained the importance of winning this final game of the series at home.
"It's good for us, we havn't played especially well at home but to take a series from Sioux City is a great momentum boost."
The RedHawks now head to Winnipeg to face the Goldeyes in a four-game series at Shaw Park starting tomorrow at 7:00 p.m.