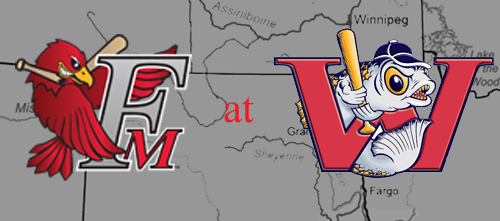 The Winnipeg Goldeyes' dominance over the rival Fargo-Moorhead RedHawks continued Thursday night.
Winnipeg scored three runs in the fourth inning to defeat the RedHawks 3-2 before 5,235 enthusiastic fans at Shaw Park. It's the Goldeyes' nine consecutive win against the RedHawks.
After Fargo led off the game with a run in the first inning, Winnipeg used a Luis Alen single to score two runs in the fourth. Alen moved to third on Josh Mazzola single and then scored on a wild pitch by Fargo starter Tyler Herron for what would be the winning run.
The RedHawks made it interesting with a run in the fifth and runners on second and third in the top of the ninth. However, Dexter Carter struck out Zach Penprase and Nick Jackson to end the game and earn his second save in as many games.
Starter Fabian Williamson allowed two runs over four and two-thirds innings, but it's reliever Brian Beuning who picks up the win.
Herron went seven innings, but suffers his third loss of the season.
The Goldeyes and RedHawks are back at it tomorrow night at Shaw Park. Game time is 7:00 p.m. Rookie Rick Hawkins (2-0, 4.70) will start for Winnipeg, while Fargo will start Alex Caldera (4-1, 2.56)