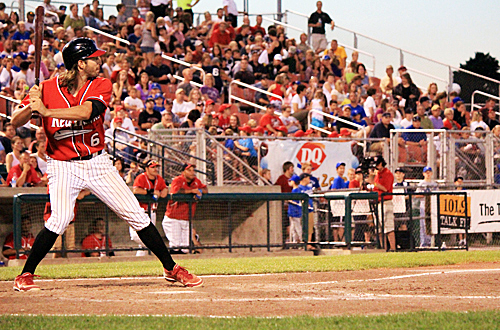 FARGO, N.D. – The St. Paul Saints rallied for four runs in the ninth inning and snapped a four-game losing streak with a 7-5 win over the Fargo-Moorhead RedHawks Friday in the American Association.
St. Paul (18-20) loaded the bases with nobody out and went ahead for good on an RBI single by Jose Hernandez that bounced past center fielder Nic Jackson to score three runs.
Jim Rapoport followed with an RBI double down the left-field line to give St. Paul a 7-5 lead, and Fargo-Moorhead (20-20) had its winning streak snapped at six games.
Sergio Pedroza hit his fifth home run of the year in the sixth inning, a two-run shot that scored Carlo Cota and gave F-M a 5-2 lead. Ole Sheldon's solo shot in the eighth got St. Paul back within two.
Anthony Cleggett, the fourth of six St. Paul pitchers, evened his record at 2-2 with the win after a scoreless eighth inning. Dustin Klabunde stranded the tying run at first base with a strikeout of Cota for his second save of the year.
Mike Zenko faced five batters in the ninth without recording an out and dropped to 2-1 with the loss.
Jackson was 3-for-5 with a double for the RedHawks, Jon Gaston was 2-for-3 with two doubles and two intentional walks, and Cota finished 2-for-5.
Hernandez was 4-for-5 for the Saints and Rapoport went 1-for-2 with two RBIs including a sac fly and walked twice.
A sellout crowd of 5,144 was on hand at Newman Outdoor Field. It was F-M's third sellout of the year and the largest crowd since May 17, 2009.
The RedHawks and Saints continue the three-game series at 6 p.m. Saturday. Tickets are still available at www.fmredhawks.com or by telephone at (701) 235-6161.