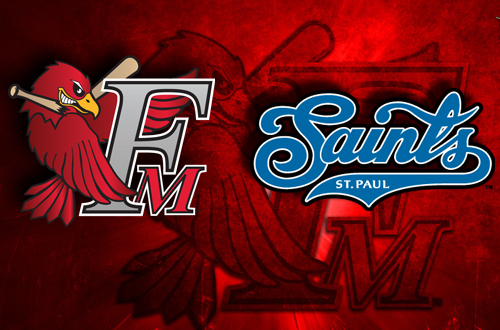 ST. PAUL, MN – A 5-2 homestand will always be considered successful, but for the St. Paul Saints it's when those two losses occurred that will make it feel not quite as triumphant. For the second straight night the Saints lost to the Fargo-Moorhead RedHawks 4-1 on Thursday night at Midway Stadium in front of 5,056.
The Saints got their lone run of the night in the first inning when Joe Spiers and Ole Sheldon had back-to-back singles with one out. Ronnie Bourquin followed with a walk to load the bases. In what could have been a big inning, the Saints left a lot on the table. Jose Hernandez struck out and with Jon Townsend at the plate RedHawks starter Aaron Shafer uncorked a wild pitch that scored Spiers to give the Saints a 1-0 lead. It would be the only mistake Shafer made the rest of the night as he struck out Jon Townsend to end the inning.
The RedHawks gave Shafer all the run support he would need in the fourth. Jon Gaston led off with a double and moved to third on a single by Ryan Delgado. Saints starter Luke Anderson, however, struck out the next two hitters. Anderson couldn't get the key third out and instead Carlo Cota drove one to left that Jake Krause jumped for and had the ball hit his glove and fall back into the field of play for a two-run double. Zach Penprase added and RBI single to give the RedHawks a 3-1 lead.
The RedHawks tacked on their final run of the night in the fifth when Nic Jackson led off with a single and scored on a two out double by Delgado. Delgado finished the night 3-4 with a double, RBI and a run scored.
After the first inning the Saints collected just two hits, a one out double by Krause in the fifth and a one out double by Adam Frost in the seventh. Shafer went 6.2 innings allowing one run on four hits while walking one and striking out eight.