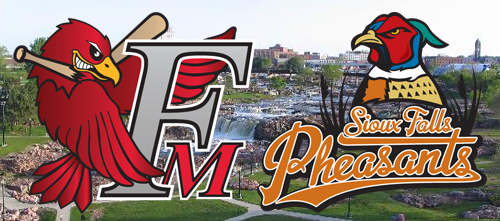 (courtesy of www.sfpheasants.com)
SIOUX FALLS -- On a wet an sloppy night, errors were costly in the Sioux Falls Pheasants 13-6 loss to the Fargo-Moorhead RedHawks on Saturday night.
The RedHawks clinched the series and handed Sioux Falls its seventh straight loss.
Fargo-Moorhead took advantage of Pheasants' starter Pete Gehle (6-7) throwing error in the fourth inning, surging ahead of the Pheasants with six runs.
The Pheasants had an early 3-0 lead when Reggie Abercrombie tripled in two runs and Cristian Guerrero brought him home with a sacrifice fly in the first inning.
Nic Jackson's ground out brought in one run for Fargo-Moorhead in the second to close the gap to 3-1, before they took the lead in the fourth inning.
A RedHawks error allowed to Joe Anthonsen to come home from second base, cutting the lead to 7-4 in the fifth inning.
However, the RedHawks responded with another big inning to extend their lead in the sixth. They hit two home runs and cracked six hits total to make the score 12-5.
Gehle was forced to exit after the home runs in the sixth. Over 5 1/3 innings, he allowed nine runs, five earned, on 11 hits. He struck out six and walked one.
Sioux Falls scored an unearned run via an error in the bottom of the sixth inning. Trevor Lawhorn was able to come home after Fargo's second baseman's throw to first was wild.
RedHawks' starter Jake Laber (6-5) earned the victory, allowing five runs, four earned, on five hits. He struck out three and also walked six.
Ryan Delgado's RBI double in the eighth put the final run on the board in Fargo's 13-5 win.
After Delgado's double, Pheasants reliever Dusty Gober settled down and struck out the next five batters. Overall he struck out seven in three innings as the Pheasants pitching fanned 14 RedHawks.
The finale of the three-game series with Fargo-Moorhead is at 5:05 p.m. on Sunday, August 12.