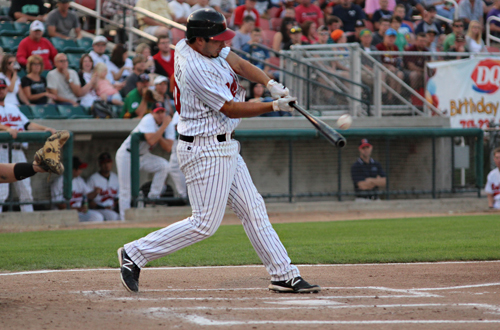 Fargo, ND – Ryan Delgado hit a two-run home run in the bottom of the seventh to power the RedHawks to a 2-1 victory over the Laredo Lemurs on Thursday at Newman Outdoor Field in front a crowd of 3,876.
With two outs in the seventh, Laredo misplayed an Eric Campbell pop-up in the outfield, allowing Campbell to reach base on a single. Ryan Delgado followed up on the Laredo miscue hitting a two-run home run over the left-field fence, putting the RedHawks ahead 2-1.
"I was trying to get anything up in the zone," said Delgado. "I wanted to put a charge into it, I tried getting some good at-bats and I finally got one up."
RedHawks starter Tyler Herron and Lemurs starter Mark Haynes had a pitcher's duel in the early going with both not allowing a run until the sixth. Anthony Scelfo picked up the lone run for Laredo on a solo home run in the sixth, giving the Lemurs an early 1-0 advantage.
Herron pitched a solid seven innings, giving up five hits and one earned run on a walk with five strikeouts. Joe Harris and Eric Massingham pitched the eighth and Tom Boleska picked up his 29th save of the season, two shy of tying an American Association record for saves in a season. Herron also improved to 12-3 this season in his ninth consecutive home victory.
Haynes (3-7) pitched a complete game for Laredo (51-45), giving up four hits and two earned runs with six strikeouts and no walks.
Eric Campbell led the RedHawks at the plate going 2-for-4 with a double and a run while Buddy Sosnoskie singled in the fourth and Delgado hit the eventual game-winning home run.
Laredo had five different players with hits. Laredo had a chance to score in the fourth when Stephen Douglas hit a lead-off triple, but he was thrown out at home by Aaron Shafer on an infield grounder for the first out in the inning.
The Fargo-Moorhead RedHawks are now 63-33 which is three wins shy of breaking the American Association record of 65 wins in a single season set in 2006 by the Lincoln Saltdogs. The RedHawks finish their final regular season home game Friday against the Lemurs at 7:02 p.m. at Newman Outdoor Field.