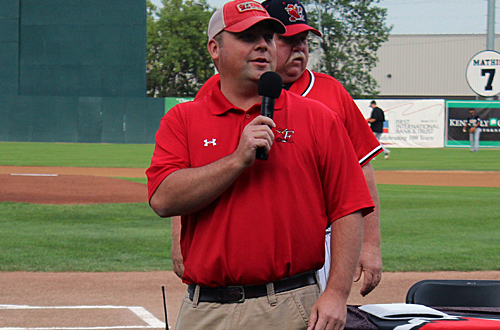 FARGO, ND – Fargo-Moorhead RedHawks General Manager Josh Buchholz has been named the American Association Executive of the Year, the league office announced today. The award was selected in a vote of the league's Field Managers and media representatives.
Buchholz, 38, is in his 17th season of professional baseball, all with the RedHawks. He has named the team's fourth General Manager following the 2005 season. It is the third time Buchholz has earned Executive of the Year honors, but first time in the American Association. He received the honor in the Northern League in 2008 and 2010.
Buchholz began his career in baseball as the Clubhouse Manager for the RedHawks in 1996 and 1997 before joining the front office following the 1997 season. He has worked as an Account Executive, Director of Media Relations and Director of Baseball Operations prior to assuming his current post.
Buchholz is a Moorhead, MN native and resident. He graduated from Moorhead Senior High School and Concordia College, both in Moorhead.
"It is very humbling to receive this award," said Buchholz. "We have a tremendous staff, supportive ownership and a great team that makes it very easy to come to work every day."