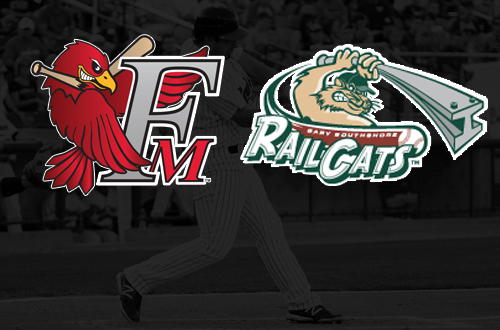 The Gary SouthShore RailCats (33-21) rallied for three runs in the sixth inning and the bullpen contributed four innings of scoreless relief as they defeated the Fargo-Moorhead RedHawks (32-23) 3-1 on Sunday afternoon at U.S. Steel Yard in Gary, IN.
RedHawks Taylor Stanton brought a no-hitter into the sixth inning before loading the bases with one out. Christian Vitters recorded the first hit of the day with a line shot off the glove of the first baseman to score Mike Massaro from third.
Then, Cristian Guerrero reached on a fielder's choice ground ball to third to score Brian Kolb and Drew Martinez followed him with a solid single to right to score Vitters and make it 3-1 after 6.
The RailCats bullpen would need no other offense as the combination of newly signed; Osvaldo Rodriguez, Kyle Lindquist, Ian Durham and Marco Gonzalez kept Fargo-Moorhead off the board in the final four innings.
RailCats starter James Adkins, making a spot start in place of the injured Morgan Coombs, delivered five innings and allowed one run on six hits and one walk. The lefty took a no-decision in his second start of the season.
Fargo-Moorhead struck first with a Nic Jackson RBI single up the middle; his tenth hit in the series. His single scored Buddy Sosnoskie to make it 1-0 in the top of the third. C.J. Retherford followed with a broken bat flare to left but the RailCats avoided any further damage by catching Retherford trying to advance to second in a run down.
The game was devoid of offense for the remainder of the game as each team's pitching staff controlled the pace of the game.
The Red Hawks threatened in the top of the eighth, earning back-to-back walks to start the inning off of RailCats reliever Ian Durham. C.J. Retherford moved the runners to second and third on a sacrifice bunt for out number one. Durham then buckled down to strike out Keith Brachold and get Tim Alberts to ground out to short with a great scoop at first by Christian Vitters.
The Red Hawks drew a leadoff walk in the ninth by Ronnie Bourquin off of Railcats closer Marco Gonzalez. Gonzalez sent Todd Jennings and Buddy Sosnoskie down on strikes and closed out the game with a ground ball force out at second to pick up his fourth save.