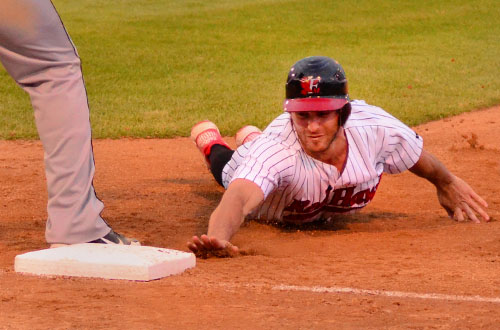 Complete release attached
The Fargo-Moorhead RedHawks and Sioux Falls Canaries begin a three-game series at 7:02 p.m. Monday at Newman Outdoor Field. The RedHawks come off a four-game split with the Gary SouthShore RailCats in Gary, Ind. Sioux Falls travels to Fargo after sweeping the Sioux City Explorers in four games and has won five consecutive games -- its longest winning streak of the season. The RedHawks currently lead second-place St. Paul by four games in the North Division standings, while the Canaries sit nine games back. Alex Caldera (7-2, 3.39) is expected to take the mound for the 'Hawks, while Sioux Falls will counter with Mitchell Clegg (3-2, 5.82).
The Sioux Falls Canaries enter tonight's game with a 23-32 record and are currently in fourth place of North Division standings. The Canaries have played their best baseball of the season as of late, winning 10 of their last 13 games and their last five straight. Steve Shirley is in his seventh season as manager of Sioux Falls. The North Division foes are scheduled to play 10 games against each other this season, with four of those matchups already completed in May. The RedHawks are 3-1 this season against the Canaries and are 97-59 all-time against Sioux Falls. Both teams played each other as members of the Northern League from 1996 to 2005 and began playing again when Fargo-Moorhead joined the American Association in 2011. The biggest game possibly viewed last year between the two teams was a victory for Sioux Falls on August 12, that ended the RedHawks' franchise-record 14-game winning streak and also snapped a 2012 five-game winning streak Fargo-Moorhead had over the Canaries.
The RedHawks' radio home is The Fan 740 AM. Scott Miller serves as the voice of the RedHawks for his eighth season. Pregame starts 20 minutes before the scheduled first pitch. A free online stream of every Fargo-Moorhead home game is available at livestream.com/fmredhawks.
Jackson's Streak Continues
RedHawks outfielder Nic Jackson is currently on a 31-game on-base streak -- the second highest streak in the AA behind Abel Nieves of the Wichita Wingnuts. Jackson in the last 10 games has gone 17-for-35 (.486) with a home run, eight runs scored and 12 RBIs. Recently, Jackson had one of his best peformances at the plate. On July 12 in Gary, Jackson accumulated four hits, while crossing home three times in a 9-3 victory for the 'Hawks.
Alex Caldera's last start garnered him a no-decision, but heading into that start Caldera had earned four consecutive victories -- the second highest mark in the league. In his four prior starts, Caldera had not allowed more than two runs and had went six innings or more in each. Caldera leads the team in strikeouts (56) and ranks among the league's best in victories (7, Tied-2nd) and ERA (3.39, 10th). This season's work so far may have outdone his 10-4 record and 3.50 ERA last year.
Pitching Remains a Key to Success
The RedHawks pitching staff boasts the second-best ERA (3.28) in the American Association coming into tonight's game against the Canaries. Starters Taylor Stanton, Jake Laber and Alex Caldera all rank among the league leaders in ERA at third, fifth and 10th, respectively. Pitchers Danny Gutierrez, Joe Harris, Nathan Kilcrease and Mackenzie King all boast under-3.00 ERA's out of the bullpen for the RedHawks.
Although the RedHawks are batting a combined .249 in the month of July, two players have thrived. Nic Jackson is hitting .452 in July with a team-leading 19 hits and 12 RBIs, while Zach Penprase has batted .333 on 17 hits, with a team-high five stolen bases and 14 runs scored.
RedHawks Among League Leaders
Tim Alberts Triples (5) Tied-3rd
Alex Caldera Wins (7) Tied-2nd
Starter's ERA (3.39) 10th
Chase Johnson Saves (11) 6th
Zach Penprase Stolen Bases (22) Tied-2nd
Taylor Stanton Complete Games (2) Tied-1st
Jake Laber Starter's ERA (3.02) 5th
0… Amount of runs given up by RedHawks reliever Danny Gutierrez this season (6 games)
31… Consecutive game on-base streak for Nic Jackson, second-longest streak in league
.116… Opponents' average against RedHawks reliever Joe Harris with runners on base
.337… Keith Brachold's team-leading batting average at home this season
8… Number of wins away from 1,000 in club history for the Fargo-Moorhead RedHawks