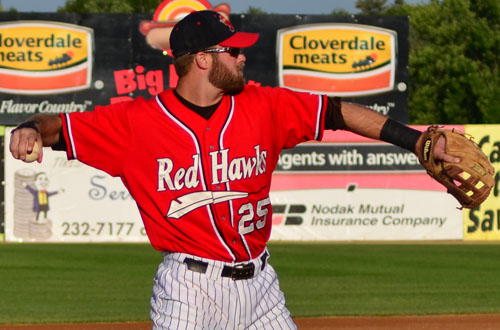 The Series
The Fargo-Moorhead RedHawks (46-28) and St. Paul Saints (37-36) meet for the final series of 2013 between the two North Division rivals Tuesday at 7:02 p.m. at Newman Outdoor Field. The RedHawks come off a three-game home sweep of Winnipeg, which helped extend the division lead to 8 1/2. St. Paul was recently swept by Gary SouthShore before traveling to Fargo-Moorhead. The Saints hold a 5-4 advantage over the RedHawks this season and are 22-13 against the RedHawks since Fargo-Moorhead transitioned to the American Association. Lefty Jake Laber (5-5, 3.41) is expected to take the mound for the RedHawks, while BIlly Soule (2-0, 6.88) looks to have a repeat performance of his last start against the RedHawks on Aug. 1.
The Opponent
St. Paul enters tonight's game tied for second in the North standings and recently was swept by Gary SouthShore. George Tsamis is in his 11th season managing the Saints and led the club to a championship in 2004. St. Paul has won two of the three series' against Fargo-Moorhead this season. In the series finale on June 25 in Fargo, Buddy Sosnoskie hit a game-winning home run sealing the RedHawks' 1,000th all-time victory. Overall, Fargo-Moorhead has an all-time record of 74-69 over St. Paul. Both teams competed against one another in the Northern League, but didn't match up from 2006-2010 when St. Paul moved to the American Association.
Listen
The RedHawks radio home is The Fan 740 AM. Scott Miller serves as the voice of the RedHawks for his eighth season. Pregame starts 20 minutes before the scheduled first pitch. A free online stream of every Fargo-Moorhead home game is available at livestream.com/fmredhawks.
Newman And Laber a Good Mix
Jake Laber is expected to make his 76th start as a RedHawk today, which is the fourth most in team history. Laber also ranks among the team's best all time with 300 strikeouts (4th) and 479 2/3 innings pitched (3rd). Laber has not lost a home start since May 24 and during that time he has accumulated a 5-0 home record giving up no more than five runs in any of his last six home starts.
Some Love For The Bullpen
The RedHawks bullpen played a major role in the recent three-game sweep that helped Fargo-Moorhead improve their division lead to 8 1/2 games. In the three games, the bullpen combined to pitch 10 innings and give up only one run (0.90 ERA). Nate Kilcrease threw a perfect 2 1/3 innings, had two strikeouts and earned the win on Aug. 2, and Mackenzie King achieved a three-inning save on Aug. 4 by allowing only one hit to the Goldeyes to highlight the bullpen effort.
Alberts Tough to Stop
Tim Alberts has had two consecutive four-hit games coming into today's matchup against St. Paul. In the last 10 games, Alberts's average has improved to over the .300 mark for the first time this season in part to going 15-for-38 (.395) during the span. Alberts has hit a home run, 2 RBIs and scored seven runs. He ranks among the league's best in extra-base hits (39) and leads the team in home runs with 13 this season.
NDSU Standout Shuts it Down
Former North Dakota State closer Kyle Kingsley made his RedHawks debut Aug. 3 and finished out the RedHawks' 12-5 victory over the Goldeyes. The 2013 NDSU spring graduate pitched two innings and gave up a hit and a walk -- both given up in the eighth, but led to no damage.
RedHawks Among League Leaders
Tim Alberts Extra-Base Hits (39) 4th
Alex Caldera Wins (8) Tied-3rd
Zach Penprase Stolen Bases (31) 2nd
Runs (63) Tied-3rd
Taylor Stanton Complete Games (3) Tied-1st
Starter's ERA (2.52) 1st
Jake Laber Starter's ERA (3.41) 6th
Joe Harris Appearances (38) Tied-3rd
Wins (9) 2nd
Ron Bourquin Walks (48) 4th
Upcoming Milestones
Nic Jackson
59 home runs: Needs 5 home runs to move into tie for 2nd on club's career home runs list (1st: Jesse Hoorelbeke 65, 2nd: Darryl Motley:64)
423 walks: Needs 2 walks to reach 425 walks in his professional career
Chase Johnson
196 strikeouts: Needs 4 strikeouts to reach 200 in his professional career
Danny Gutierrez
273 strikeouts: Needs 2 strikeouts to reach 275 in his professional career
Todd Jennings
279 RBIs: Needs 1 RBI to reach 280 in his professional career
Zach Penprase
247 stolen bases: Needs 3 stolen bases to reach 250 in his professional career
Mitch Einertson
997 hits: Needs 3 hits to reach 1,000 in his professional career
Quick Hitters
2… Number of consecutive four-hit games for Tim Alberts
6… Number of appearances Nate Kilcrease has made in a row without giving up a run
8.5… Number of RedHawks' gamelead in North Division standings over Winnipeg and St. Paul
13… Number of consecutive games C.J. Retherford has picked up a hit
.432… Nic Jackson's batting average against the St. Paul Saints this season (team-best)