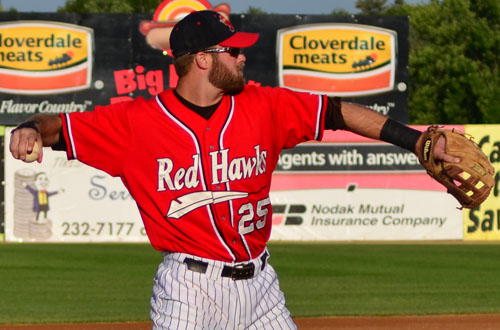 FARGO, N.D. – Ron Bourquin hit his 18th home run of the season and Taylor Stanton pitched six solid innings in a Fargo-Moorhead RedHawks 4-2 victory over the Amarillo Sox in front of a sellout crowd of 4,864 at Newman Outdoor Field Friday.
Amarillo jumped out to a 1-0 lead in the second before Fargo-Moorhead tied (61-36) it in the fourth on a Jeremiah Piepkorn RBI fielder's choice.
RedHawks starter Taylor Stanton and Amarillo starter Brad Wilson kept both lineups in check through five innings, keeping the game tied before Ron Bourquin provided the difference in the ballgame.
Zach Penprase led the sixth off with a single and Bourquin smacked a home run over the right-center field wall to put Fargo-Moorhead in front 3-1. C.J. Retherford followed with a double and scored on a Keith Brachold RBI single to extend the 'Hawks lead to 4-1.
Amarillo (51-46) loaded the bases in the eighth and ninth innings and was only able to pick up one run. RedHawks' Nate Kilcrease ended a bases-loaded jam in the eighth by striking out K.C. Serna and after a balk brought in one run in the ninth, Kilcrease forced Kyle Nichols to ground out to complete his sixth save of the season.
The RedHawks finished their home slate with a 32-18 record this season. Taylor Stanton (9-5) earned the win after pitching six innings of eight-hit baseball. He allowed one run and struck out six, while walking no batters. Joe Harris allowed only one hit and struck out two in 1 2/3 innings of relief.
Bourquin drove in two runs and was the only Fargo-Moorhead batter with a multi-hit game.
Wilson dropped to 4-3 by allowing four runs on seven hits in seven innings pitched. Nichols, Joe Weik and Jorge Delgado had two hits apiece for the Sox.
The RedHawks travel to Winnipeg to face the Goldeyes to end the regular-season schedule Saturday. Fargo-Moorhead will host an opponent to be determined in the Semi-Finals of the American Association playoffs in games one and two starting Wednesday, Sept. 4, at 7:02 p.m. Tickets are available at fmredhawks.com or by calling (701) 235-6161.